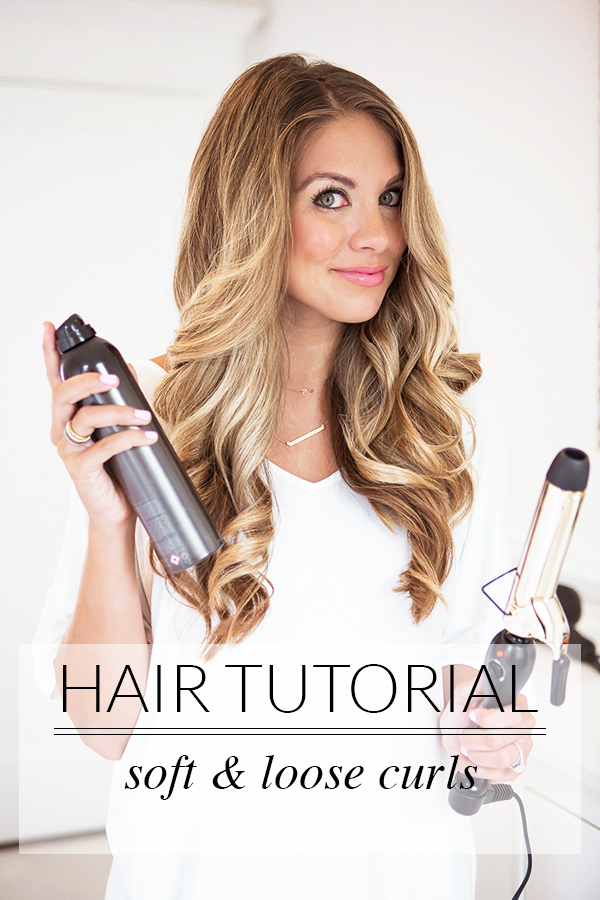 I am so excited to finally share with you guys a new hair tutorial.  There's no question that my favorite hairstyle is big, loose curls (after all, I am from Texas). It's also the style I wear my most often. Many of you have requested this tutorial, and while I shared a similar tutorial last year, I wanted to share an updated version and be as thorough and detailed as possible.
Please let me know if you have any questions!
Products Used:
Pro Beauty: 1 ¼" Professional Gold Curling Iron & Ionic AC Motor Dryer
Oribe: Royal Blowout, Superfine Strong Hairspray, and Goldlust Nourishing Oil
Redken: Quick Tease 15 Backcombing Spray
Step 1: Before creating this hairstyle, I like to start with clean hair. While I don't wash my hair everyday, this is a great way to set your look for the next couple of days.
If time permits, I like to let my hair partially air dry.  I typically throw my hair up in a bun and let it air dry about 75% through the night. I've found that when I let my hair partially air dry, it has extra texture and ends up holding a longer curl. When I wake up, my hair is still damp and I spray Royal Blowout throughout my hair.
To finish drying, I use the Ionic Blow Dryer. I love this dryer! It's lightweight and gentle on my hair. When I don't have the time to let my hair air dry, this one dries my hair much faster than most dryers while exposing my hair to less heat.
Style Tip: Use the cool shot when finished to seal the ends and add shine!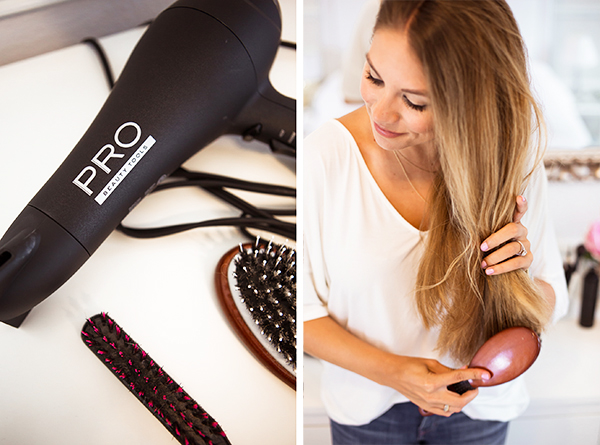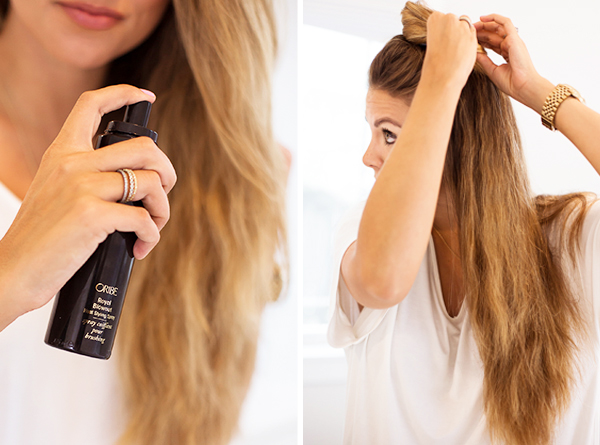 Step 2: Next, I separate my hair creating a bun on top. I used a hair clip, but you can use whatever you find easiest.  I apply another mist of  Royal Blowout to the bottom portion and brush my hair.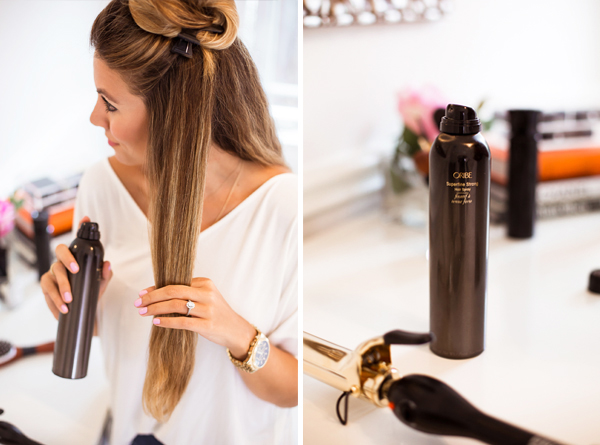 Step 3: Next, take a 2 inch section of hair. I start by spraying Superfine Strong Hairspray over the section before curing. My hairstylists introduced me to this hairspray a year ago and now I am addicted! It works great with my 1 ¼" Professional Curling Iron. I love the size of this iron. If you have longer hair, I highly recommend this size for voluminous curls.
Style Tip:  The ends of your hair are the most delicate; Always start curling in the middle to protect the ends and encourage a stronger hold. I like that this iron has multiple heat settings, so it works great with all hair types. If you're looking to create that big, soft curl, start by curling away from the face and follow the same pattern until you get to the back.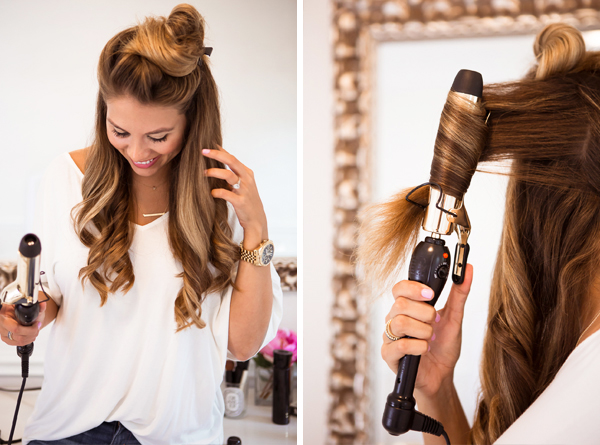 Style Tip: Let your curls cool off in your hand to create a tighter curl that will last longer. You will brush them out after you are finished, but be sure to let them stay tight as long as you can. I usually don't brush them out until I am ready to walk out the door. I find that this really helps "set" the curls.
Step 4: Take out the hair from the top bun and brush out any tangles. I start by taking the top part of my hair and spraying Redkin Quick Tease to give my hair a little lift. This works well in conjunction with a teasing comb however, I try to not use a teasing comb if I don't have to. Quick Tease alone seems to get the job done for an everyday look.
Style Tip: I like to take the top part of my hair, and fold it to the opposite side while I'm curling. This lets the Quick Tease dry and set.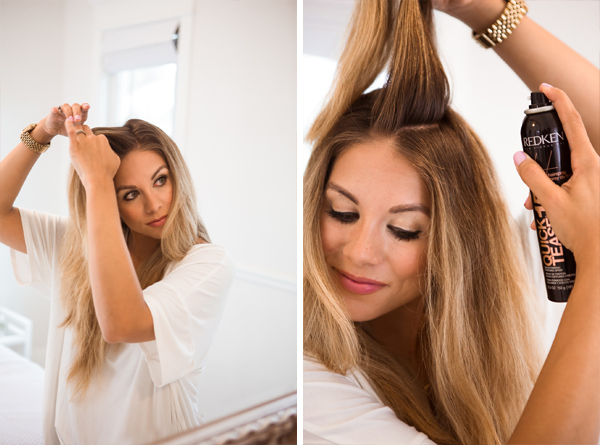 Step 5:   I separate my hair into two parts, and curl away from my face. I always pay close attention to how I curl the areas framing my face. I like for the hair to follow the same pattern.
Style Tip: I frequently get asked about my haircut and wanted to share that my hairstylist cuts quite a few layers around my face. This really helps to help give my hair more texture and volume. The size of this curling iron works perfect for getting those "big, soft" curls around my face.
Step 6: After curling, I use a pump of Goldlust Nourishing Oil. This smells so amazing and I love how it makes my hair soft and shiny.
Style Tip: Run your hands through your hair, focusing on the ends. This separates the tight curls and gives a softer look. While, the Nourishing Oil doesn't make hair greasy, I try to apply the product strictly from my ears and down.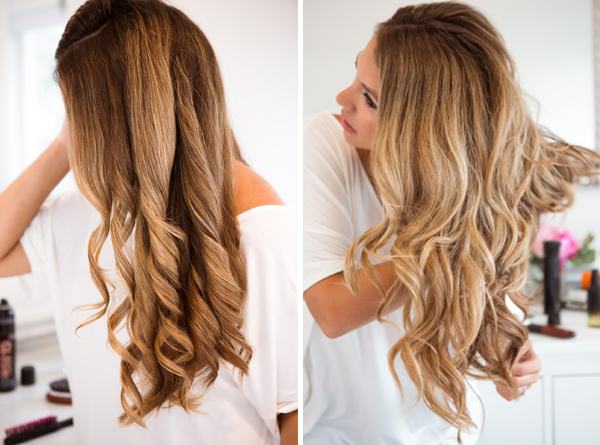 Step 7: I like to finish by spraying a light mist of Superfine Strong Hairspray all over my hair. This helps hold those curls all day and gives a nice shine.
POST DETAILS: monogrammed jewelry box c/o // candle jar // pave ring set // initial necklace // bar necklace (Ring style here) // watch // lipstick "corial intuitive" // nail polish "cake-pop" 
images by: mary summers
this post is brought to you by pro beauty tools, a brand that I use and genuinely love