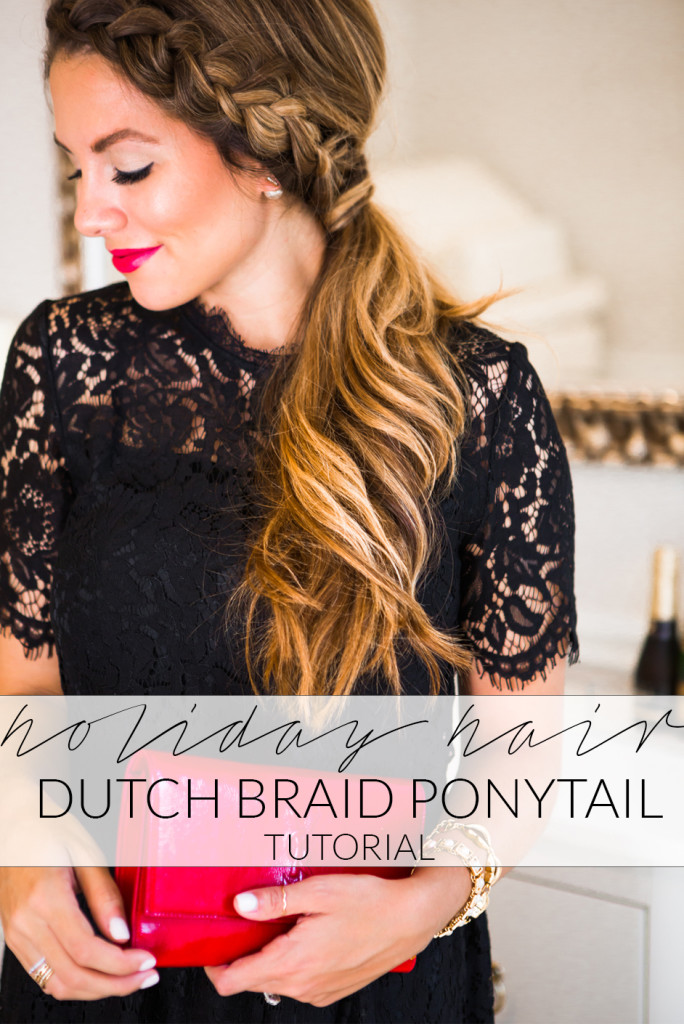 Now that the holiday season has officially arrived, I wanted to share with you a hairstyle perfect for any upcoming festivities. This braided ponytail is one of my favorite looks and I love the messy texture. Gone are the days where every strand has to be in place. Now, we are embracing texture, loose curls, and of course, volume!
Pro Beauty Tools, doesn't want you to miss out on the fun, so be sure to check out below and see how you can win some of my favorite hair appliances. They deliver professional performance and quality that will have you styling like a pro in no time. Good luck and thanks for stopping by! xx

1. I recommend this look on day old (or 2-day old) hair. I find that when my hair is dirty, it actually turns out better when doing a braided updo such as this.
Start by spraying dry shampoo all over hair, focusing on roots. I've tried numerous brands, and one that I am currently loving is the Moroccan Oil Dry Shampoo (I use the color light and it helps keep my roots not so harsh). Use at the roots for added volume and a matte texture. Be sure to brush out the powder with a boar bristle teasing comb when finished.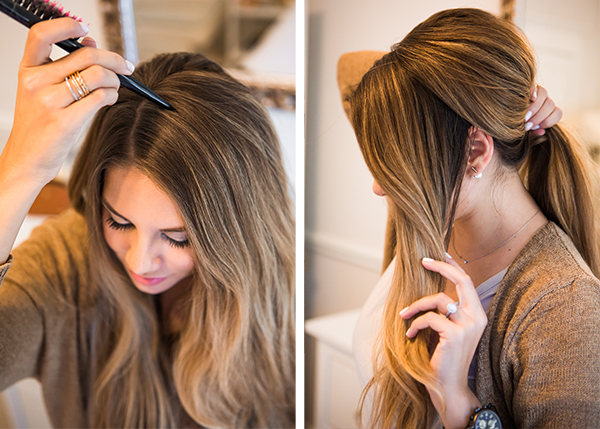 2. Next, section the hair to prep for the braid. Keep in mind, you will be teasing (or adding volume spray) to the back so you want to make sure that you keep the hair separate from the section you are braiding. I put the remaining hair in a pony tail so it's out of the way.
Starting at the center of your hairline, grab three sections of hair. You are going to create a dutch braid by braiding each strand underneath one another instead of over, like you would with a French braid. Take in a little more hair each time. This is what makes the braid pop.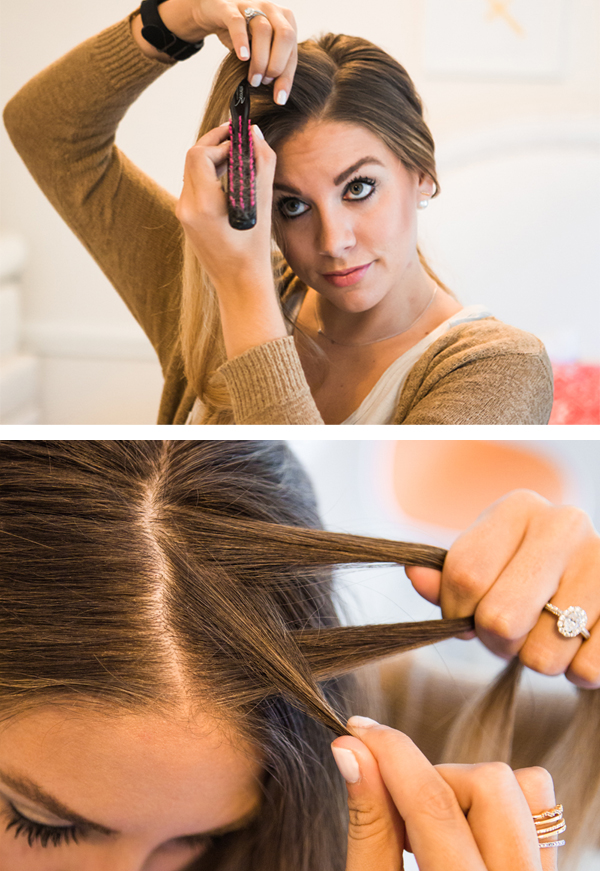 3. Continue braiding, and secure with a clear hair tie.
Once the braid is finished, gently pull on the braid in opposite directions, making it wider. This is an essential step to getting a fuller looking braid. I slowly pull, until I get the braid thick and voluminous. Don't worry if it get's a little messy! Personally, I like it when it's not "too perfect".
4. For more volume, spray Redken Quick Tease 15 at the root of your hair. This stuff is amazing and I find that it works really well in conjunction with any teasing comb. While the teasing comb isn't always necessary, it definitely helps add some extra oomph.
After teasing, you will then take the braid (along with the rest of your hair) and pull it back into a ponytail. I like to keep mine lower and to the side, but you can do this however you like. Readjust your braid after you secure the tie.
5. After my braid is all set and pulled up into the ponytail, I take my Pro Beauty Curling Wand and start curling the ends to create a loose curl finish.
I love this wand because it is perfect for girls with longer hair and it's really simple to use. It is 2 inches longer than traditional wands, so it is ideal for longer locks. The gold plated barrel provides advance heat technology ideal for all hair types. Yes – you read that right! Fine, coarse or thick hair – this wand will be your new best friend.
I begin by pointing the curling wand downward and wrapping one to two-inch sections of hair around the wand at a time. The more hair you wrap around the wand, the bigger the curl. I like to use Superfine Strong Hairspray before and during curling. This hairspray is my favorite for hold (and I love the smell). Hold each section around the wand (taking care not to burn your fingers!) for only a few seconds, then release.
If you're in the market for a new wand, I would suggest adding this to your wish list!
6. Continue curling until you have your desired look. I wanted to achieve a loose curl for my ponytail, so I ran my fingers through the ends to make the curls not so tight. I also like to hide my elastic by wrapping hair around the hair tie. You can secure with a bobbie pin, or tuck into the elastic.
Finish with your favorite hairspray or texture spray and voila!
But what's a holiday hair style without a party dress? To complete this look, I wore my Eyelash Lace Top & Skirt Set. I wanted to add a festive touch, so I pulled out my red clutch and favorite red lipstick in Cruella. 
OUTFIT DETAILS
Look 1: Tan Long Cardigan (similar here) // V Neck Tee // Lipstick (in Spanish Pink, my favorite for everyday) // Layered Ring // Pave Ring // Timex Weekender Watch in Black (I love this oversized watch! The size is perfect and it's a great accessory for any casual look.)
Look 2: Eyelash Lace Top & Skirt Set (size up) // Red Clutch (similar under $100) // Pearl Bracelet // Lips Bracelet // Pearl Back Earrings // Lipstick (in Cruella)
After an exciting response from the Voluminous Curls Tutorial, Pro Beauty and I wanted to give you a chance to win the 1 1/4″ Curling Iron and Digital Straightener.  All rules for entry are listed below in the Rafflecopter widget.
One lucky winner will be announced Monday, December 14th. The winner will be contacted within 24hrs on the email used to register. Best of luck and thank you for entering! xx
a Rafflecopter giveaway
images by: mary summers
This post is in collaboration with Pro Beauty Tools. All opinions and selections are my own.