This past weekend we celebrated George's first birthday. It has been such a bittersweet moment for us. Time seems to go by so quickly and it truly feels like we were just in the hospital welcoming our new boy. But here we are and we could not be more proud.
Originally, we hadn't planned on doing a party. With everything going on, we figured it would be best to do a drive-by "birthday" for our parents and siblings to see George. They've all been quarantined, but we wanted to lean on the side of caution.
Last week, we got the news that things were officially starting to open up in Texas. And even though we aren't going out just yet, we talked with our parents and we all agreed a "socially distant" party in the backyard could be a fun option for all of us to get to celebrate George.
We kept it pretty simple and sweet. I always pictured a "honey bear" party for George, but when we opted for a drive-by, I put all of that aside. Then, when we decided to actually get together (literally the week before), I went into full panic mode and ordered everything off Amazon to attempt and make this somewhat "themed".
I ordered balloons from Lushra (this was their custom color DIY kit—I used PARTYATHOME for 10% off). We had iced coffee bears for our family to enjoy—I just had everyone pour iced coffee, creamer and ice in these honey bear cups. We are big coffee people so that little detail was a big hit! I also made little tags on Photoshop that read "Oh Honey, You're One" to attach to the bear cups. For the cake, my MIL made George's smash cake (isn't she talented?) and we bought prepackaged Sprinkles cupcakes for everyone.
I ended up pulling things from our house to "decorate" the patio. Thankfully the balloon garland made a big statement so we didn't have to use much. I grabbed a side table that we had in our living room and put a few of my vintage-inspired vases on it. Austin picked up the flowers and greenery at Trader Joe's and they worked out perfect for the little vignette. I also added a few frames of George to make it feel more personalized.
It was truly the best day and although it felt a little weird to all be spread out in the yard, it was so nice to be "together" again.
For more "socially distant" party ideas, be sure to check out 12 At-Home Ways to Make Birthdays Feel Special. xx Ashley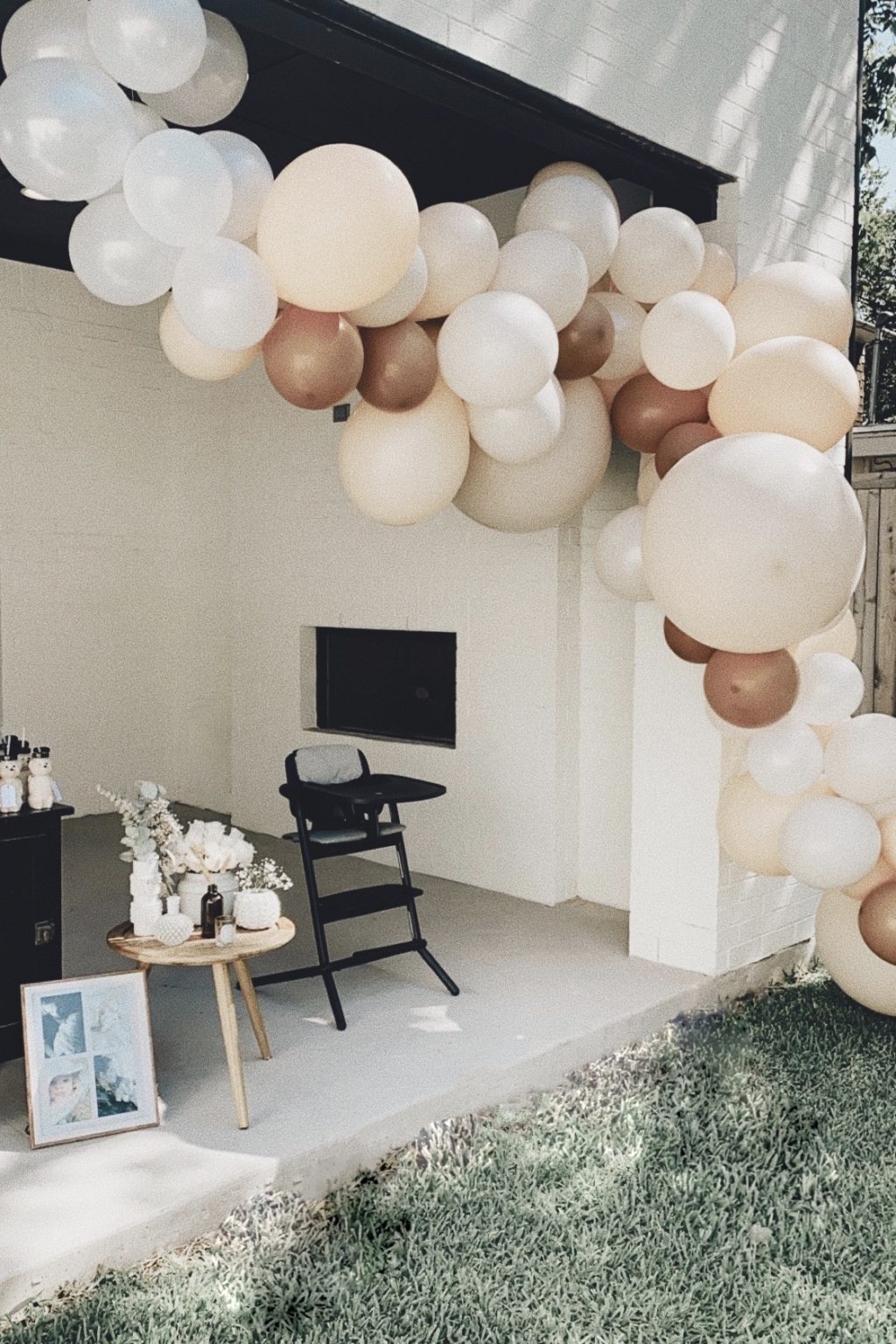 OUTFIT DETAILS:  
ME: White Maxi Dress (A little big, but it's meant to have a loose fit. I'm in a small.) 
GEORGE: Linen Overall Set | Sandals are old (similar style — also love these in brown) | Black Highchair (we LOVE this one…only bummer is it doesn't fold down. But it's very sturdy/heavy and has hidden wheels to make moving it really easy.)