To be honest, I don't think of myself as too trendy of a person but obviously for work (and my own fashion pleasure), I love getting behind one when it works. For the most part, my closet is filled with classics: jeans, blazers, basic t-shirts, easy dresses, etc. On top of that, I like to buy a handful of 'trending' items that take my regular classics and elevate them to feel more modern. It's honestly amazing what one trending piece can do to your look in terms of it feeling current.
So, I thought it'd be fun to talk about 2021 trends. More specifically, the ones I'm into and ones I'm not (or that I think are on their way out). I hope this helps if you're looking to do more mindful shopping, which I like to do, and allows you to try out trends without feeling like you need a closet overhaul.
What trend are you into for 2021? Any you're not?
xx Ashley
2021 TRENDS I'M INTO

90's HAIR ACCESSORIES: Claw clips and big scrunchies specifically.
CHIC SLIPPERS YOU CAN ACTUALLY WEAR OUTSIDE: I mean, why not? It's like the 2021's version of loungewear and I'm into it. I bought these Jenni Kayne Mules in 2020 and l-o-v-e but if you're looking to spend less, these are another great option. See how I styled the trend here.
QUARTER ZIP KNITS: Obsessed. I just did a full post on 9 different choices depending on your style.
DRAMATIC COLLARS: This kind of goes hand-in-hand with quarter zip knits since I like a lot with larger collars, but we're also seeing dramatic collars in blouses, jackets and dresses…which I'm into.
SNEAKERS: At this point, I have more sneakers than Austin and it's pretty much the only shoe I've been buying other than slippers. There are a ton of cool sneakers out right now and again, they're fitting with the wearable lounge trend that we're now accustomed to. These are my recent purchase and I linked a few more above.
GRANDPA CARDIGAN: Oversized, large buttons, and super comfy. One like this or this and for the most part, you can style buttoned as your top, or over a turtleneck or bodysuit for a layered effect.
2021 TRENDS I'M NOT INTO

SHACKET: Don't get me wrong, I wear mine often. But I feel like it blew up so fast, everyone is now wearing it. I won't be buying anymore.
TIE-DYE: Along with many of you, I bought several tie-dye pieces over 2020. I feel like the tie-dye lounge set was the official uniform of quarantine and now I'm ready for a fresh start.
SKINNY JEANS: I'm more into a relaxed straight leg or boyfriend style like these.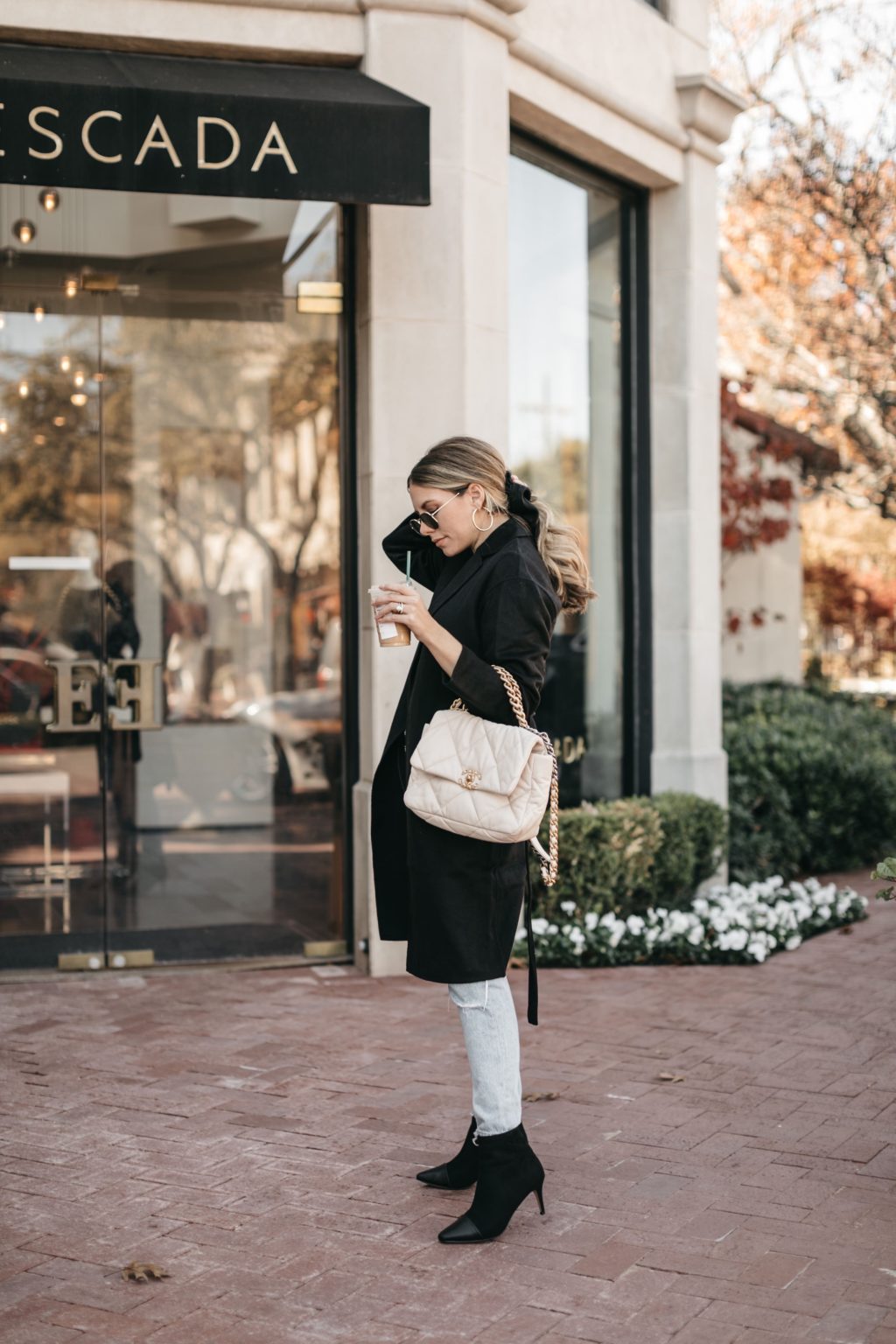 Express Wool Coat (TTS) | Kitsch Scrunchie | Agolde Jeans | Amazon Hoops | Ray-Ban Sunglasses | Chanel Bag | Express Booties