Lately, one of the questions I've been getting asked most is "What are you favorite flats for traveling?".  If you saw my snapchat in London, you may remember the Q&A I did with Austin. Like him, I also like to do my research before purchasing products for trips! With being a little tight on packing space, I wanted to make sure I got the most bang for my buck when it came to shoes.
During our trip, we walked everywhere. As much as I wanted to bring my heels and wedges, those had to stay home (the cobblestone in Europe is no joke). I rotated these shoes throughout our trip and found them to be practical, comfortable and very easy to wear with different outfits. Here are the shoes I packed for our European vacation:
If you've followed my blog for a while, you know how much I love the brand M.Gemi. I've purchased several shoes from them and been gifted a few along the way. While this brand is a little on the pricey side, you get what you pay for: quality, comfort and style. I was so excited to receive The Stellato Loafers for our trip. These have been on my list for quite a while and they did not disappoint.
With M.Gemi in general, I find them to run a little small. I went up a 1/2 size in these and they fit perfect. I ended up wearing these the most out of the shoes that I packed for a few reasons. 1. They go with so much. and 2. They were very comfortable. I did have to break them in a little before wearing them for an entire day of walking. So, I wore them to the airport the day we left in hope to break them in. I experienced some rubbing on my ankle, but nothing to cause a blister. After that, I had no issues and was very happy with these shoes.
M.Gemi doesn't want you to miss out and they are offering TTD readers a special discount. Use code 'teacher diva' at checkout to save $40 on your first pair of M.Gemi shoes.
These were so much fun to wear on our trip. I've never really been much of a sneaker girl, but I loved this leather pair from Nine West (now 20% off). They were so easy to wear with black leggings or my favorite dress, not to mention they were very comfortable.
These sneakers were a little heavier than I expected and I did worry they wouldn't be ideal for walking all day. However, I was pleasantly surprised. It rained a little on our trip and I was concerned about these getting dirty, but the leather made them very easy to clean. As far as fit goes, I found them to run true to size. I highly recommend these for any trip with lots of walking!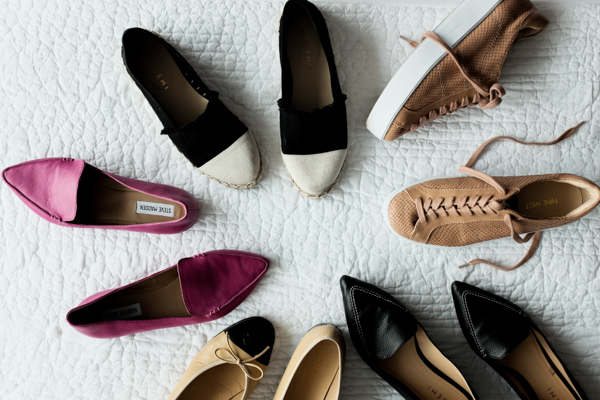 I can't tell you how comfortable these espadrilles are. Seriously the softest pair I've ever worn. Most espadrilles have a canvas or fabric sole, but these were lined with leather. The were great for walking around the city and throwing on at the beach.
I found the white fabric to get a little dirty, however it was very easy to wipe off with a damp towel. As fas as sizing goes, these ran pretty small. I ended up having to go up a whole size. Use code 'teacher diva' at checkout to save $40 on your first pair of M.Gemi shoes.
These are easily my favorite pair of shoes I own. I really love these shoes and highly recommend saving up for a pair (you can see how I've styled them here, here , here and here). The Chanel Ballet Flats have been a great investment and are worth every penny. I've worn them with dresses, skirts, jeans, etc… they truly are a classic shoe. The fit runs small, so keep in mind you will want to go up a size.
If you love the style but are looking for something more affordable, I found an identical pair at under $50. They look so much like the real deal!
This loafer reminds me of a pair I had last fall (seen here). I wore them everywhere! I was so excited to find similar style in leather. These were pretty comfortable as well and gave me the perfect pop of color. They come in a few other colors and patterns, and I found them to run true to size.
SHOE DETAILS
Nine West Valley Lace-Up Platform Sneakers  (now 20% off) | The Sala Espadrilles *save $40 on your first pair of M.Gemi Shoes with code "teacherdiva"* (fit: these run a little small, I recommend sizing up) ℅ | Chanel Ballet Flats (identical version here for under $50 // fit: tts) | Steve Madden Pink Feather Flats (fit: tts) | M.Gemi Stellato Flats *save $40 on your first pair of M.Gemi Shoes with code "teacherdiva"* (fit: these run a little small, I recommend sizing up a 1/2 size) ℅