Happy Wednesday! Today's post is one that many of you requested (and one that I am excited to share) – my top 5 essentials for Fall (all on sale). Also, tomorrow I will be sharing my favorite beauty products on sale, so be sure to check back for those! 
I would have to say Fall is my favorite time of the year for many reasons, but the fashion is at the top on my list. Though it's fun to take part in trends, I feel like during Fall and Winter I rotate between the same basic pieces. You know, the closet staples. I often get asked about what pieces I consider staples, so I wanted to share my favorites from the sale that you will be able to wear all season long.
I tried to include details about sizing and fit, but don't hesitate to reach out if you have any more questions!
Oh and I'd love to hear about your Fall Must Haves. Leave a comment below and let me know!
xx Ashley

Oh yes, that's right. High Waisted (aka super slimming, most flattering leggings ever). I scooped these black leggings up last week during the Nordstrom Anniversary Sale, and immediately knew they would be a pair I would love for Fall & Winter.
First things first, let's talk about the side zipper detailing on the ankle. I love it! The zipper adds a nice touch and looks more "sophisticated" than just a pair of regular black leggings. However, if you want to wear with tall boots, they easily go on over the zipper.
Also, these are very thick and structured (which I find to be very slimming). I've worn these around the house for the past few days and while they aren't necessarily "lounge wear", I do find them to be super comfortable. I highly recommend this pair!
FIT: True to size. I am in a small. The quality is pretty good considering the price. They feel more expensive than they actually are.
Black Leggings | Grey Knit Vest (Can't wait to wear this. This is "one size", but I found this to run a little big. I would not suggest this if you are petite) | Black Tunic (this is very thin, but I love the fit. It makes a great layering shirt) | Nike Sneakers (Obsessed. These ran a little big, I suggest going down a 1/2 size)


I was so excited about picking up a pair of booties from the Nordstrom Anniversary Sale this year. It was honestly so hard to pick one because they have so many great options to choose from! I did however, like the simplicity of these Steve Madden Chelsea Boots.
First, I love the color. This smokey, mushroom color goes with almost everything making them really versatile. I also like the hight of the boot. It hits right at the ankle, making it flattering to wear with both jeans or dresses. So often I find a pair I love only to worry about my jeans bunching around the ankle. Eh, I hate that! These booties do not give me that issue.
FIT: True to size. I haven't been able to really break these in, other than wearing them around the house and during a couple photo shoots (more on that next week), but the quality seems to be top notch.



If you've followed my blog for a while, you know how much I love cardigans! I was pretty excited to see this Boyfriend Cardigan on the sale this year. I actually purchased it in 3 colors.
This cardigan is great for many reasons but my favorite is the fit. I like that it is a little relaxed, longer and has pockets. The ribbed details on the hem are nice too. I know I will wear this over and over again in the upcoming season.
FIT: True to size, however it is a little big. I personally like that, but if you want something a little more fitted, I would suggest sizing down. I am in a small.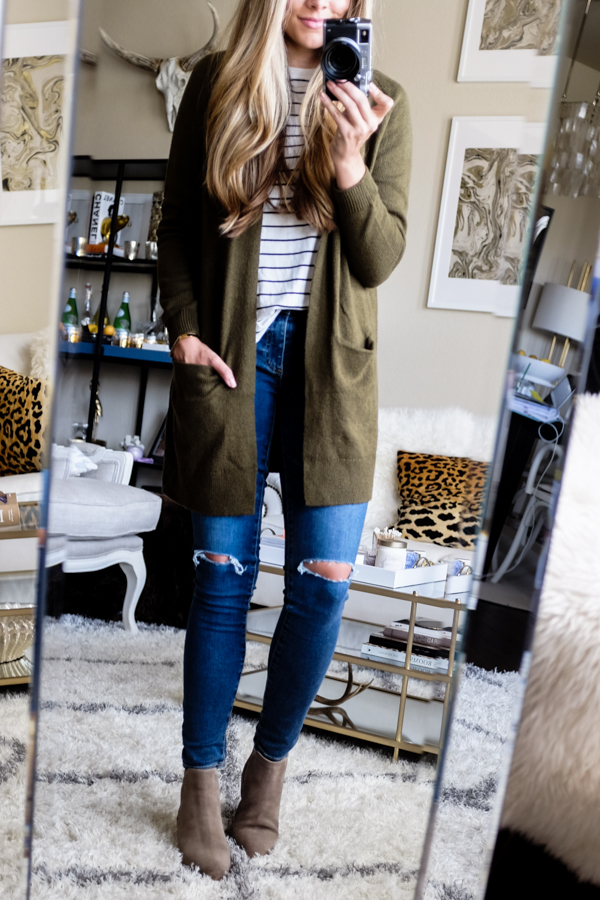 Boyfriend Cardigan | Striped Layering Tee | White Camisole (My favorite cami for layering. Not sheer or see through! Be sure to follow sizing in parenthesis for best fit) | Distressed Denim (fit: Nordstrom recommends sizing up if your are in-between sizes, but I found them to fit true in size) | Steve Madden Chelsea Boot | Vince Camuto Peep Toe Booties more pictures in this post) 


This little top is a steal at $18. I purchased it in black too (seen in the first set of photos). I like this top and find it very flattering. It's a tunic style, with side slits and a longer hemline in the back. It will be great with leggings too!
My only worry with this top is the quality. However, at $18 I really can't expect the best. The fabric is pretty thin, but not completely sheer. It's ideal as a layering top, but I could wear the striped version alone. I figured I would give these a try because I really do like the fit/style.
FIT: relaxed tunic style, runs a little big. I am in a small.
Striped Layering Tee | Distressed Denim (fit: Nordstrom recommends sizing up if your are in-between sizes, but I found them to fit true in size) | Lipstick


These Over The Knee Boots boots are one of my favorites from the sale. I love the fit and style. This color seems to be very versatile and should go with many pieces I already own. The heel is easy to walk in and doesn't feel too uncomfortable. Again, I've only worn these around the house and out for a photo shoot so I can't make any promises, but so far I am happy with them. I am really looking forward to wearing these this Fall!
FIT: True to size.
***Many of you asked about my camera, I am using the FujiFilm X100T. We love this little camera! It went with us all over Europe and was a dream to travel with.***