UPDATE: The 2016 sale has ended but be sure to checkout the Nordstrom Anniversary Sale 2017 guide.
Happy Friday, everyone! As promised, here is a full review over a few of the items I purchased during Early Access at the Nordstrom Anniversary Sale. I know it's hard to think Fall while it's still 90° outside, I get it, but it really is the perfect time to stock up on fall essentials before they go full price on August 8th. As always, feel free to email or comment if you have any questions about sizing, quality or just want to say hi! Oh, and be sure to check back this Sunday for an exciting (and big) giveaway!
In the meantime, Austin and I are heading to downtown this weekend for a little staycation. I can't wait! He started his new job last week, and is officially no longer on call during the weekends (yay!), so we are doing a little celebrating. We are hoping to get in some time by the pool and just relax. I hope you guys have a relaxing weekend as well! Thanks for stopping by! xx Ashley
I've dabbled in the lace up trend here and there, but it's clear this is going to be a style that we will continue to see throughout Fall & Winter. This Lace Up Sweater was an exiting find for me. One of my favorite ways to wear a light knit sweater is  by paring it with shorts (you may remember this post), especially towards the end of summer.
I found this sweater to be perfect for both shorts, pants or leggings (I just picked up this pair from the sale, TTS and super thick + slimming). I picked it up in a size small and found it to fit a little oversized which I like. The material is lightweight and should be perfect for Fall. I love this neutral sweater!
This dress was a big win for me. I wore the white version on instagram yesterday and love the drop hem line. This dress is a "wear now" option, however, you could easily throw on a jacket with it during the Fall.
I found the sizing to run true, however, the website suggests sizing down. I don't know if agree. I ordered an XS and it was pretty short on me, so I stuck with the small (gotta love free shipping & free returns!).  As far as quality goes, the material is pretty thin. It does come with a slip so it is not see through. My only issue is the white looked pretty wrinkled. I know the material is supposed to look like that, but I sprayed some wrinkle release on it before wearing and that helped!
This faux leather tote is a dream at under $40 (and comes in three colors). Many of you wanted to see bags that could transition well for work and this is it! I was able to fit my laptop, planner, makeup pouch and files comfortably. As far as quality goes, we have to remember this is not real leather. However, it does not look cheap. The smooth leather and minimal detailing look chic and make the bag look more like a designer piece.
I'm shooting a "In my Workbag" post next week and plan to feature this bag. So stay tuned for a more detailed review with close up photos later next week. Overall, I really think it's a great bag considering the low price tag.
Oh my, I don't even know where to start with these. First off, these look IDENTICAL to a $400 sold out designer pair.  When I saw these I knew I had to try them! I seriously can't get over these Leopard Flats. The quality is top notch and feel very expensive. Although the material is faux calf hair, I consider these to be a year round shoe. As far as sizing goes, I found them to run little big. I am normally an 8 and ended up going down to a 7.5.
You have been warned, but expect to see this show often!
If you love a good bell sleeve, this top is for you! This is another "wear now" option, but can easily be worn into Fall. I love the colors and find it goes with pretty much anything. I'm wearing it with the AG Legging Jean (on sale…more on these in a minute) but also like the idea of pairing it with a brown suede skirt for a 70's, boho vibe.
I found the fit to run true to size, I am in a small. The quality was what I expected, not see through and seemed to have good shape. I highly recommend this top!
Let's talk about this purse.  It's minimal, classic and everything I want in a bag. This has an adjustable strap allowing it to be worn as a cross body or shoulder bag. The leather and suede mix makes this bag unique and well, beautiful!
It is small, yet holds all of my necessities. I like that the inside has two compartments and even a pocket. This bag is a must!
I posted these on snapchat yesterday and got a ton of requests to do a full review on these shoes! Well, let's just say they are worth every penny (I'm actually wearing them now as I type this). First, I love the color. It's not brown, it's not black, yet it can easily be worn with either. The heel height is easy to walk in and sole is padded with suede leather making them very comfortable.
For sizing, I found these to run big. I normally wear an 8 and had to go down to a 7.5. Highly recommend these booties!
Let's start off with saying, that is pretty much all I wear during the fall. I know it may be a little boring, but I love staples that can be worn over and over again. This Tan Open Front Cardigan is a classic option that can be worn with a white camisole (wearing US 6), or your favorite plaid button down. After shooting this look yesterday, I went to order this in the black and olive.
The fit was generous. I am in a small, but possibly could have tried the XS. Quality seems to be decent. I'm not sure if it will start "pilling" with wear, but as far as I can tell, it seems to be pretty nice.
The AG Legging Jean is another sale find that I could not pass up. I have a darker pair in this style from AG and I love the fit & length. AG makes great denim, but they are pricey. I was excited to see their classic style was included in the sale! Nordstrom recommends sizing up if your are in-between sizes, but I found the 26 to fit true in size.
Sorry for the puppy pic, but Lucy wanted to say hi! I have this shirt styled for an Instagram postulator  this weekend, but I did want to share a quick look with you guys because I have a feeling it might sell out quick.
This black and white top is a classic for Fall and Winter. I love the fit of this one! It's oversized, but the back is a little longer making it ideal for leggings or skinny jeans. It's very soft and cozy.  I decided to get my normal size (small), but if you want something a little more fitted, I would suggest sizing down.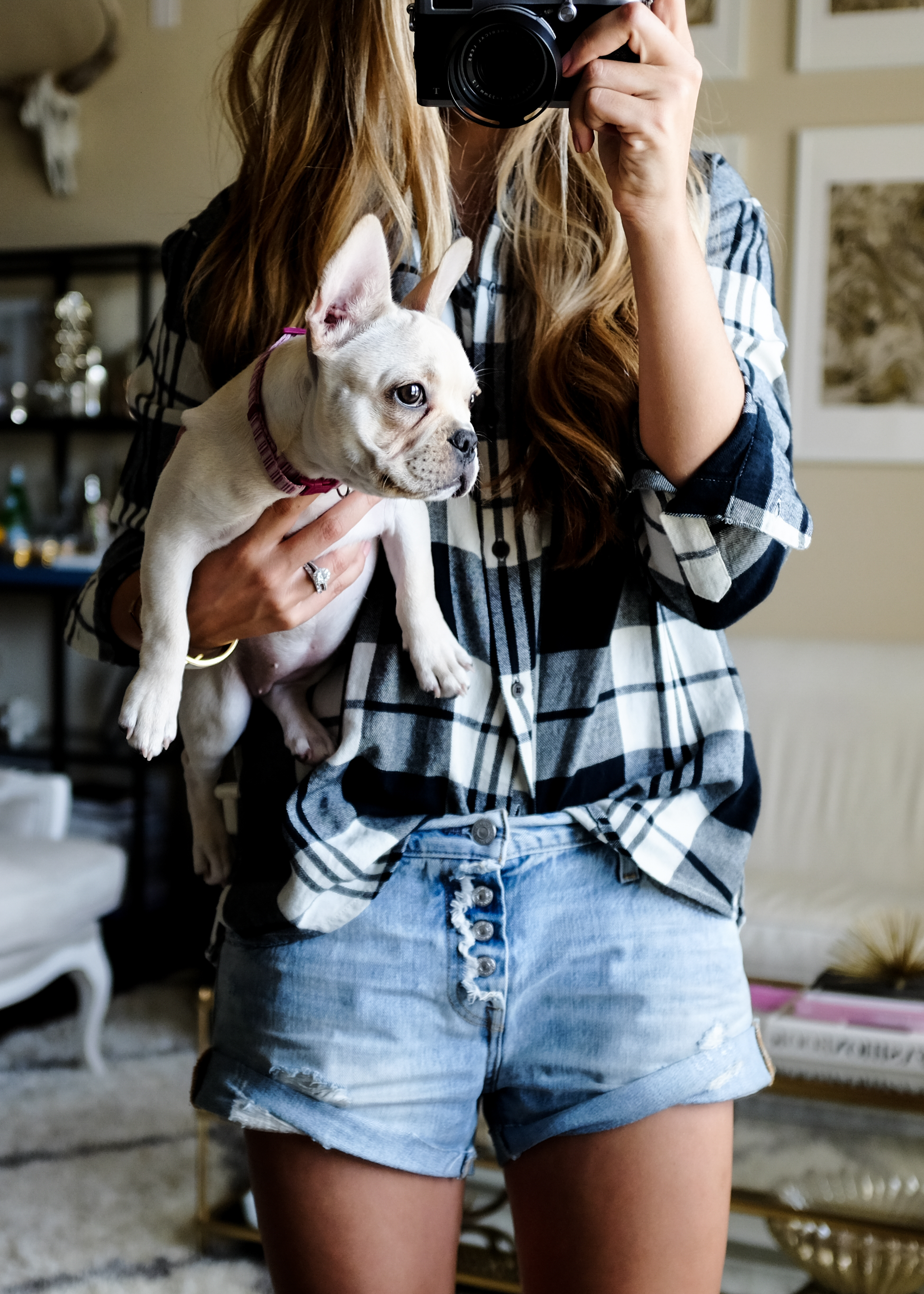 This post is in partnership with Nordstrom. All opinions and selections are my own!