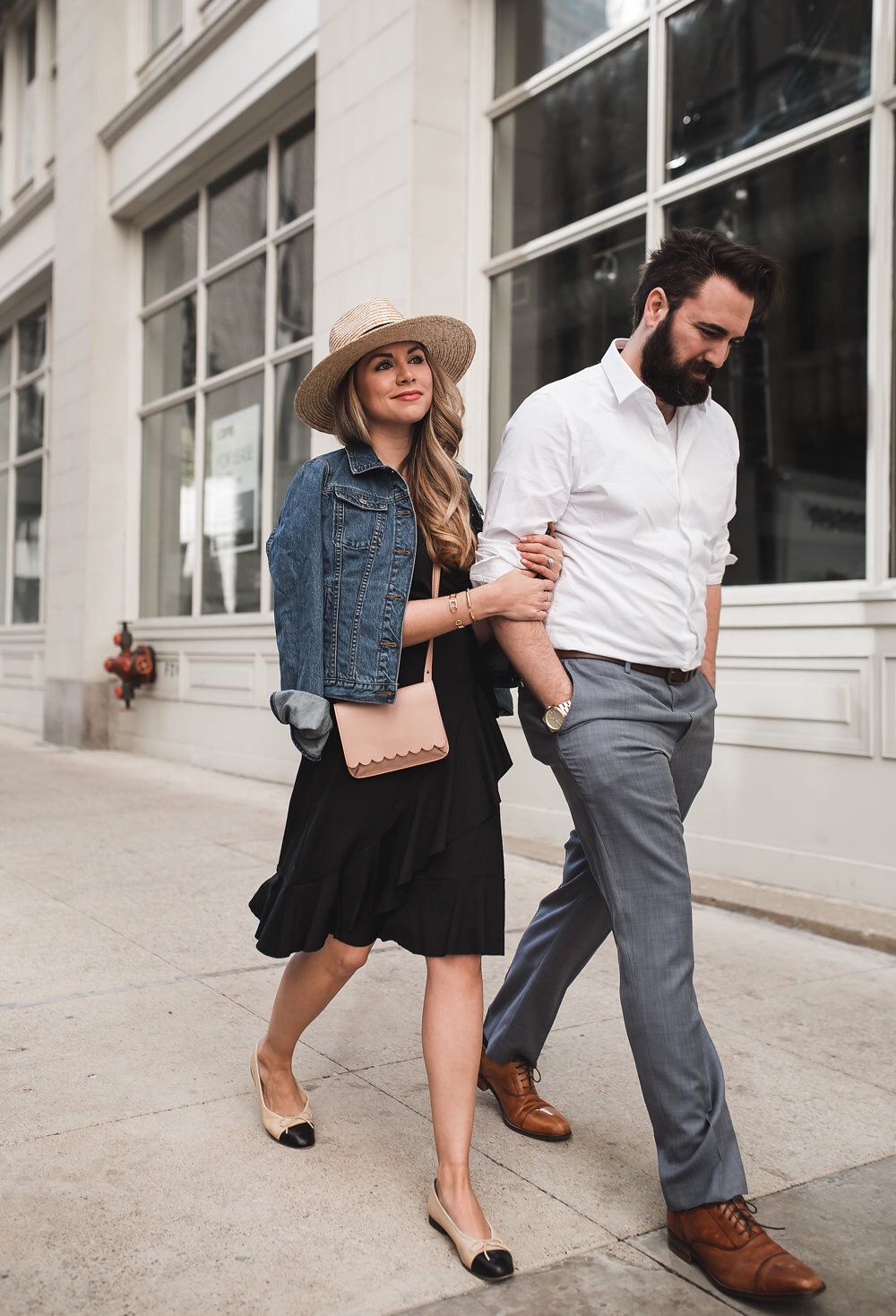 When shopping for the perfect outfit, we hate to compromise between style, comfort, and versatility.  You find that soft, comfortable top but it doesn't fit right. Or, maybe you have that beloved, trendy jacket but you can't stand to leave on for more than 15 minutes. We've all been there. Between Austin and I, we shop a lot of brands. And from what we can tell, few companies get both style, comfort and versatility right. If you're looking to invest into an outfit that makes you feel and look great, your best bet is Banana Republic. They have created a new collection specifically designed to be not only versatile but also quite comfortable. When that favorite piece of clothing checks all these boxes, it's worth every penny. Today, Austin and I are sharing how we style some key pieces for Spring and some insight on their new campaign, "What Moves You".
A little black dress is essential to every closet, and this Flounce Wrap Dress is perfect for both a casual and formal setting. It's also really comfortable and can be worn all day. For the girl on the go, this dress is an easy transition from day to night. Spring has recently brought several beautiful sunny days to Dallas. I kept the day look casual by complimenting the dress with my favorite hat and ballet flats. Though, it can still be a little cool in the mornings, this denim jacket was the perfect addition. These casual accessories shifted the aesthetic to take on the day. For the evening, I wanted to formalize the look a bit. In this case, simply taking away the casual layers and letting the dress set the tone for the entire look. Adding a simple heel ended up being a quick and easy transition for dinner that evening.
For Austin, he is very picky about his suits. Suits can be complicated, but they don't have to be. Austin really liked this suit because it met his needs of comfort, style, and versatility. Work wear needs be all of these things. You'll be wearing it all day, so you want it to be comfortable. You want to dress to impress, but you also want your suit to fit the moment. A jacket may be good for that important presentation in the morning, but you may want to shift into something more casual for the happy hour. For Austin, this blazer and pants fit the look. Banana Republic is always Austin's first choice when he's stocking up on work wear, and this collection was right on point.
The theme of this campaign is "What Moves You". We talked about how good clothing can "move" with you and adapt to your day to keep you going. But, I also think it's an important to consider what else "moves" you. How do you stay motived?
For me, I am totally a morning person. I love to start the day early with a cup of coffee and get going. Austin thinks I am crazy, but the earlier I get up, the more motivated I get to conquer the day. I guess it stems back to my teaching days when I would get to school at 6:00 am. I just love having the morning to reflect on what needs to be done and prioritize my day. Austin and I usually try to get in a spin class a few times throughout the week. Since we both work from home, getting out and exercising is essential to living a healthy lifestyle, both mentally and physically. Conquering an early spin class keeps me motivated throughout the day. (And by conquering, I just mean showing up for class.)
What keeps you moving?
OUTFIT DETAILS: 
On Ashley: Look 1: Banana Republic Flounce Wrap Dress (fit: tts) c/o | Heels | Banana Republic Leather Crossbody (detachable straps to make this a clutch or shoulder bag) | Double Cylinder Cuff & Mini Cage Cuff c/o
Look 2: Banana Republic Denim Jacket (fit: tts) c/o | Straw Hat | Two Toned Flats (similar styles here & here)
On Austin: Banana Republic Light Blue Blazer + Trousers c/o | White Cotton Shirt | similar Leather Shoes | Banana Republic Tie c/o
SPRING PICKS FROM BANANA REPUBLIC 



THIS POST IS CREATED IN PARTNERSHIP WITH BANANA REPUBLIC. ALL OPINIONS AND SELECTIONS ARE OUR OWN.