My love affair with Sigma Beauty started long ago when I purchased the F80 Flat Kabuki Brush. One of my most used brushes to date! (but don't worry, I give it a good shampoo now and again.) We all know how expensive makeup brushes can be. And that is what initially peaked my interest in Sigma brushes. They have affordable options and several (thousand) positive reviews all over the internet. Being the curious gal I am, I purchased a few for myself. From the very beginning, I was very impressed with the quality and affordability of Sigma brushes. And to my surprise, I have had zero issues with these brushes. But have you tried their makeup? If not – you're in for a treat. 
I recently had the opportunity to check out Sigma Beauty makeup. I have spent the passed several weeks testing, wearing and reviewing these products. You know I like to do my research and I had to see what the fuss was about! Are you curious to see what made it on my list?
xx Ashley
SIGMA BEAUTY MUST-HAVES
THE BRUSHES (OBVIOUSLY) 
You all know how much I love my Sigma brushes and chances are, you have a few in your beauty bag too. So what's to love? Let's start with they are cruelty -free, include a 2 year warranty and are made with Sigmax® Fibers that allow an even application.  My three favorite brushes are the 4DHD Kabuki Brush , 3DHD Precision Copper and the F89 Bake Kabuki are unique to Sigma and I have not tried (or seen) anything like them. My go-to is the 3DHD Precision. It's perfect for contouring your nose or buffing out concealer. The shape is idea for those smaller areas on your face and you can use it with powder or cream. The 4DHD Kabuki Brush is truly a unique brush. After using this for my under eye concealer, I find it super easy to blend out my concealer. I love using the F89 Bake Kabuki to press in setting-powder to bake. The angled brush head makes it super easy to use under eyes or when contouring.
I love a matte blush and bronzer. I typically use a highlighter, on my cheekbone, so I don't want any extra shimmer in my blush. The Aura Power Blush is a great matte option. I tried "Pet Name" and "Nymphaea". I personally like "Pet Name", but it is very sheer. I don't like a whole lot of blush on my cheeks so this is the perfect hint of color for me. I also use "In the Saddle" for my bronzer. It's cool toned and does not look orange. These powders offer a buildable coverage which makes it nice if I want to do a sharp contour or add a little more color to my cheeks.
This kit is ideal for anyone who is needing to update their brow routine. I use the color Medium and find that this set includes just about everything you need to enhance your brows. I really love the brow highlight duo. The shimmer looks so pretty under the brow bone and on your Cupid's bow.
Have you tried, Sigma Beauty Eyeshadow? The shadows truly feel like velvet and are highly pigmented. I've been using this palette for weeks and found the neutral shades to be ideal for everyday, especially for fall. This palette has a little bit of everything. My favorite colors are switched above!
FALL LIPSTICKS 
There are few products more powerful than a tube of lipstick. I have used Sigma Power Stick for a while and find this formula to be hydrating and full coverage. Here, I'm wearing "In-Spades", a pink neutral great for fall. If you're a fan of the matte liquid lip, you must try "New-Mod". This formula doesn't crack or dry out your lips. And this color is so gorgeous! I am really hoping they add more colors to this collection. I would love if they bring out a muted pink or nude in the liquid lip. "Barely Blooming" is a great mod pink. Very muted, but looks great if you want to soften a darker shade.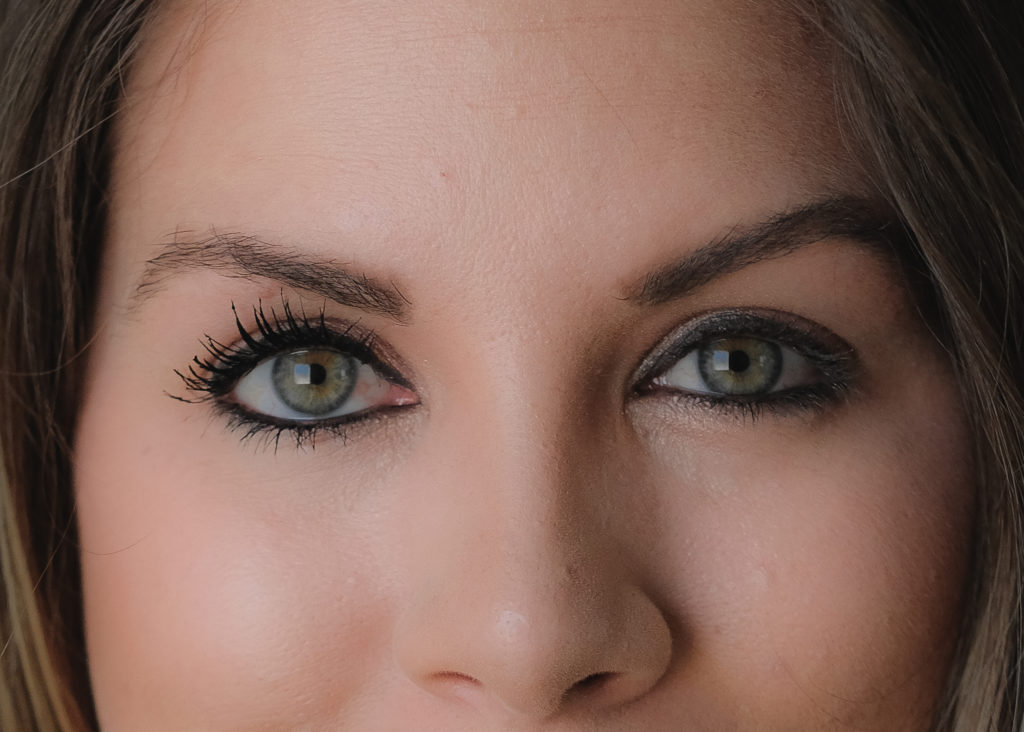 Who doesn't love  good mascara? I am new to trying this specific product but I can confidently say that it does not flake (!!!) or smudge. I've only been wearing this mascara for a couple weeks, but it has quickly earned a spot in my everyday beauty bag. Check out the before and after above – highly recommend!
PRODUCT DETAILS:
c/o
Warm Neutrals Eyeshadow Palette | Shimmer Cream 'Brilliant' | Brow Expert Kit 'Medium' | Aura Powder Blush 'Nymphaea,' 'Pet Name,' and 'In The Saddle' | Individual Eye Shadow 'Fawn' | Lip Concealer 'Lose The Halo' | Power Stick Lipstick 'In Spades' | Monumental Lash Mascara 
MY BRUSHES:
4DHD Kabuki Brush | Large Angled Contour Brush – F40 | Eyeshadow Shading Brush – E55 | Large Fluff Eyeshadow Brush – E50 | Tapered Eyeshadow Blending Brush – E40 | Tapered Face Brush – F25 | 3DHD Precision Copper | Tapered Highlighter Brush – F35 | THE BEST BRUSH SHAMPOO: SigMagic Brushampoo 
OUTFIT DETAILS: 
Chicwish Green Jacket (fit: true to size) | Katie Dean Gold Thumb Ring | Zoe Lev Oval Monogram Pinky Ring (request a size 3 0r 4 with the oval face) c/o | Warby Parker "Jennings" Glasses (The pair I was wearing recently on instagram-stories is the "Laurel")


THIS POST IS SPONSORED BY SIGMA BEAUTY. ALL OPINIONS AND SELECTIONS ARE MY OWN.