When it comes to Thanksgiving, the more side dishes, the better. At least, that's how we feel! Today, Katey and I are honored to be teaming up with MacKenzie-Childs to bring you a few of the dishes we will be making for our families this holiday. And now that she is all moved in to her new house, (how gorgeous is her new kitchen?) the timing was perfect.
MacKenzie-Childs is a brand that I have loved for years. Getting to tour their headquarters last spring was an incredible experience. It wouldn't be a family dinner without some MacKenzie-Childs on the table.
The idea to start "Recipes Between Friends" came to us several months ago when we found ourselves swapping recipes back and forth. We all have those friends who we share screenshots with and tag in recipes we find on Facebook or Pinterest. After posting a few of these dishes on Instagram Stories, it was clear that you are also looking for new things to make for dinner.
When asked to share some recipes for the holiday, we thought back to some of our family favorites. I hope you enjoy them as much as we do. These four recipes are simple, delicious, and are sure to be a crowd pleaser.
What will you be making this year? Please pass on any recommendations for all of us to see in the comments below. I know we all love getting new ideas!  xx Ashley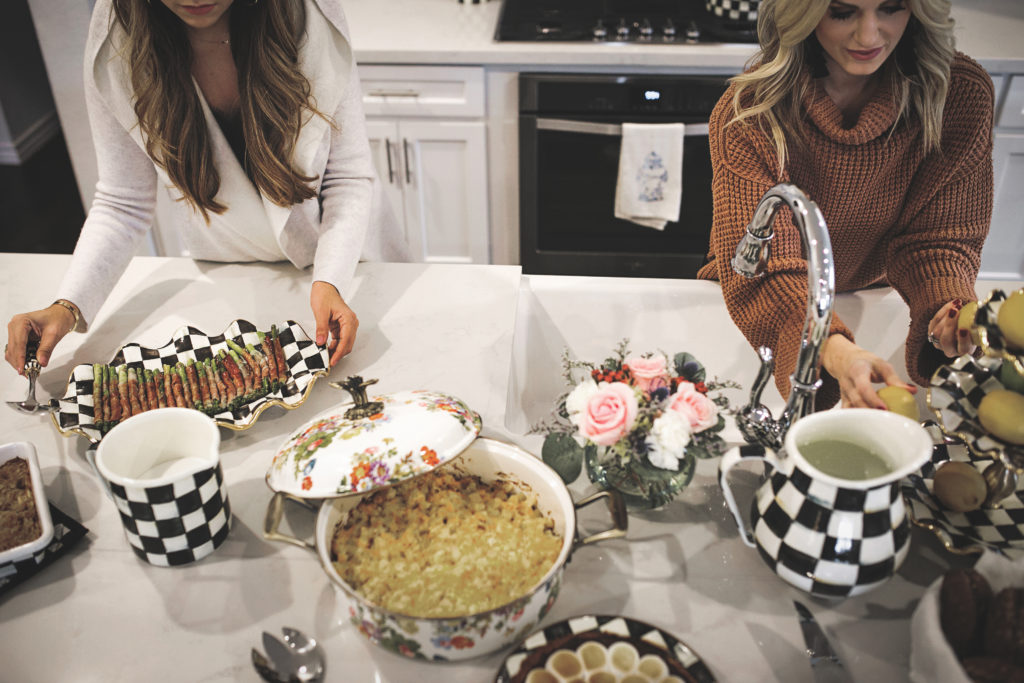 CHEESY POTATOES 
These are Austin's favorite. I can't wait to make these on Thanksgiving! 
Ingredients
1 bag frozen diced hash brown potatoes
1 can of cream of chicken soup
16 oz. container of sour cream [you can do half sour cream, half greek yogurt if you prefer]
1 stick butter, melted
1 yellow onion
2 cups shredded sharp cheddar cheese
Olive Oil
Salt & Pepper
Directions
Preheat oven to 350°
Finely chop yellow onion, then coat the bottom of the Flower Market 5 Qt. Casserole Dish with olive oil and a small amount of butter. Add onions and slowly stir, allowing them to caramelize.
Mix together cream of chicken soup, sour cream, butter and cheese.
Once onions are caramelized add to mixture.
Toss in frozen hash browns, making sure each potato is coated.
Add salt and pepper for taste
Coat bottom of casserole dish in butter, then pour mixture in.
Cook for 1 hour and 20 minutes. Keep eye on potatoes last 10 minutes as sometimes they are ready and sometimes they need a bit more time, just dependent upon if the potatoes had any time to thaw out before placed in oven.

PROSCUITTO WRAPPED ASPARAGUS
Ingredients
6 ounces sliced prosciutto
1 pound asparagus, trimmed
1 tablespoon olive oil
fresh lemon

dash of salt
Directions
Wrap each prosciutto slice on each asparagus spear at an angle, covering the entire length of the spear. Repeat with remaining prosciutto and asparagus.
Squeeze a lemon wedge over the prosciutto wrapped asparagus.
Heat olive oil in a large skillet (I love using the  Courtly Check Enamel 3 QT. Saute Pan) over medium high heat. Add asparagus and cook until prosciutto is crisp and asparagus is tender, about 4-5 minutes. Gently rotate the asparagus allowing each side to get crispy.
Add salt to taste.
Serve immediately.
S'MORES PIE
Ingredients
Graham Cracker Crust:
About 12 graham crackers
1/4 cup sugar
Pinch of cinnamon
5 tablespoons unsalted butter
Pinch of salt
Pulse all ingredients in a food processor until combined. Preheat oven to 350° and spread mixture on pie dish. Firmly press crust mixture onto bottom of pie dish and up onto sides. Bake for 12 minutes.
Filling
3/4 cup heavy cream
1/4 cup Nutella
3/4 cup milk
10 ounces of chopped chocolate bar. I used Hershey's.
2 whisked eggs
Preheat oven to 325°. In a saucepan, slowly heat up milk and cream mixture.
Add in Nutella and then chocolate. Keep this on low and slowly stir so chocolate doesn't burn.
Turn heat off and slowly stir in whisked eggs.
Bake for 25 minutes.
Remove pie when chocolate mixture doesn't shake in center. Keep eye on pie while baking. I've made this in different ovens and some ovens require it to be 20 minutes and mine requires me to bake for about 30 minutes. 
Topping
Slice large marshmallows in half
Place halves of marshmallows on top of pie. Set oven to broil. Watch pie while doing this! It can take between 1-3 minutes.
I let pie set overnight in fridge after I take it out of oven. Marshmallows are fine to stay in fridge after being broiled. However, if you are pressed for time, the pie can only be in fridge for 4 hours.
GRANNY SMITH APPLE CRISP
Ingredients for the crumb topping:
1/2

 

cup

 

flour

2/3

 

cup

 

old fashioned oats

1/2

 

cup

 

brown sugar

1/2

 

teaspoon

 

baking powder

1/4

 

teaspoon

 

ground cinnamon

dash of salt

1/3

 

cup

 

unsalted butter 

, cut into small pieces
Ingredients for the Apple filling:
3-4

 

large

 

Granny Smith apples

 

, peeled and thinly sliced

3

 

tablespoon

 

butter

 

, melted

2

 

tablespoon

 

flour

1.5

 

tablespoon

 

lemon juice

3

 

tablespoon

 

milk

1/2

 

teaspoon

 

vanilla extract

1/4

 

cup

 

brown sugar

1/2

 

tsp

 

ground cinnamon

dash of salt
Directions
Preheat oven to 375 degrees F.
For the crumb topping:
In a medium size bowl combine the crumb topping ingredients with a fork or pastry blender until it resembles small crumbs. Put in the refrigerator while you prepare the apple filling.
For the Apple Filling:
Peel and thinly slice Granny Smith apples. This part takes the longest, but I promise it's worth it!
In a small bowl, combine melted butter and flour until well blended. Add lemon juice, milk and vanilla and stir well. Stir in brown sugar, cinnamon, and salt.
Pour butter mixture over apples and toss to coat thoroughly. Pour apple mixture into an 8×8-inch baking dish and spread into an even layer.
Sprinkle crumb topping over the apples.
Bake for 30-35 minutes or until golden brown and top is set. We like to leave ours in for a few minutes longer to get the crumb topping nice and crispy.
Remove from oven and allow to cool for at least 10 minutes before serving.
To Freeze:
Prepare and bake the apple crisp as directed above. Cool the crisp completely, then cover it with a double layer of aluminum foil. Thaw overnight in the refrigerator, then warm in a 350°F oven for 20 minutes.
OUTFIT DETAILS
Katey's Outfit: Her Blog
Ashley's Outfit: Cardigan (love the hood, also worn here) | Lace Trim Cami | Double Ring Leather Belt | Stewart Weitzman Over the Knee Boots | Current/Elliot Destroyed Skinny Jeans
PRODUCT DETAILS: 
 c/o MacKenzie-Childs


Photography by: Angie Garcia
In Collaboration with MacKenzie-Childs! All opinions are our own.