So, I'm pretty excited about this post. It's not every day I get to work on a project with Austin. And trust me, it wasn't easy convincing him to "model", but he was such a trooper in his utility jacket and dark rinse jeans! Although it may have gone to his head a little (shh don't tell him I said that). 
Express came to us a few months ago with this exciting partnership to promote the Express Denim Collection (which is pretty amazing) and the Express Life campaign. The idea behind this campaign is to be bold, confident, and self-assured. And to share what those words mean to us.
Though, I don't share too much of our personal faith and testimony on here, I couldn't share those words without bringing up our relationship with Christ and what that means to us.
And before I get too far into this, I do want to address that this is a sponsored post.  I want to be fully transparent here. Express compensated me to promote the products in this collection. The compensation allows me to dedicate time and resources to create the content you see here. The promotion wants publishers (like me) to address what it means to be bold, confident, and self-assured. I can't answer that without talking about my personal faith. So, the following are my personal opinions.  Here it goes…
BEING BOLD
For me, being bold is using our God-given talents for the glory of God and not for personal glory. Everyone is good at something. And God has granted each of us talents. If you are a musician, for example, being bold means knowing your music is good because of your God-given talent. And you strive to make great music because it is a glorification to God. You boldly know, without God, you wouldn't be good at music.
So, whether you eat or drink, or whatever you do, do all to the glory of God.

— 1 Corinthians 10:31
BEING CONFIDENT
Similarly, confidence is knowing our identity is in Christ. For me, this can be the toughest. It's really easy to place my confidence in personal successes. And when I do that, I always let myself down. I'll give you an example from my days as a teacher. I was awarded Teacher of the Year a few years ago. I was thrilled, ecstatic, over the moon excited. For a whole year, I thought I was a pretty good teacher. But the following years, I never got the award again. I felt disappointed and questioned whether or not I was a good teacher. It personally affected my attitude in life. I was putting my confidence in my own ability. And like everyone else, I am imperfect. And therefore, I will eventually fail. But Christ is perfect and unchanging.
Jesus Christ is the same yesterday and today and forever.

— Hebrews 13:8
SELF-ASSURANCE
And lastly, self-assurance is knowing that Jesus Christ has already paid for my sins. There is nothing I can do or say that will earn my forgiveness. Those are simple words, but I forget them so many times.
For by grace you have been saved through faith. And this is not your own doing; it is the gift of God, not a result of works, so that no one may boast.

— Ephesians 2:8-9
And by all means, I don't have life all figured out. I was excited to write this post because it was a great personal reminder of where I'm at with my walk with God. So I hope this post was an encouragement for you as much as it was for me.
Finally, I have to brag on Austin for a bit. He is a great partner for me both in marriage and with my business. He helps keep me grounded and reminds me of our true purpose in life. This business doesn't make it easy, so I'm thankful for him.
And in return, I remind him that his "modeling career" probably won't take off. Ha! 😉
Thanks for reading! xx Ashley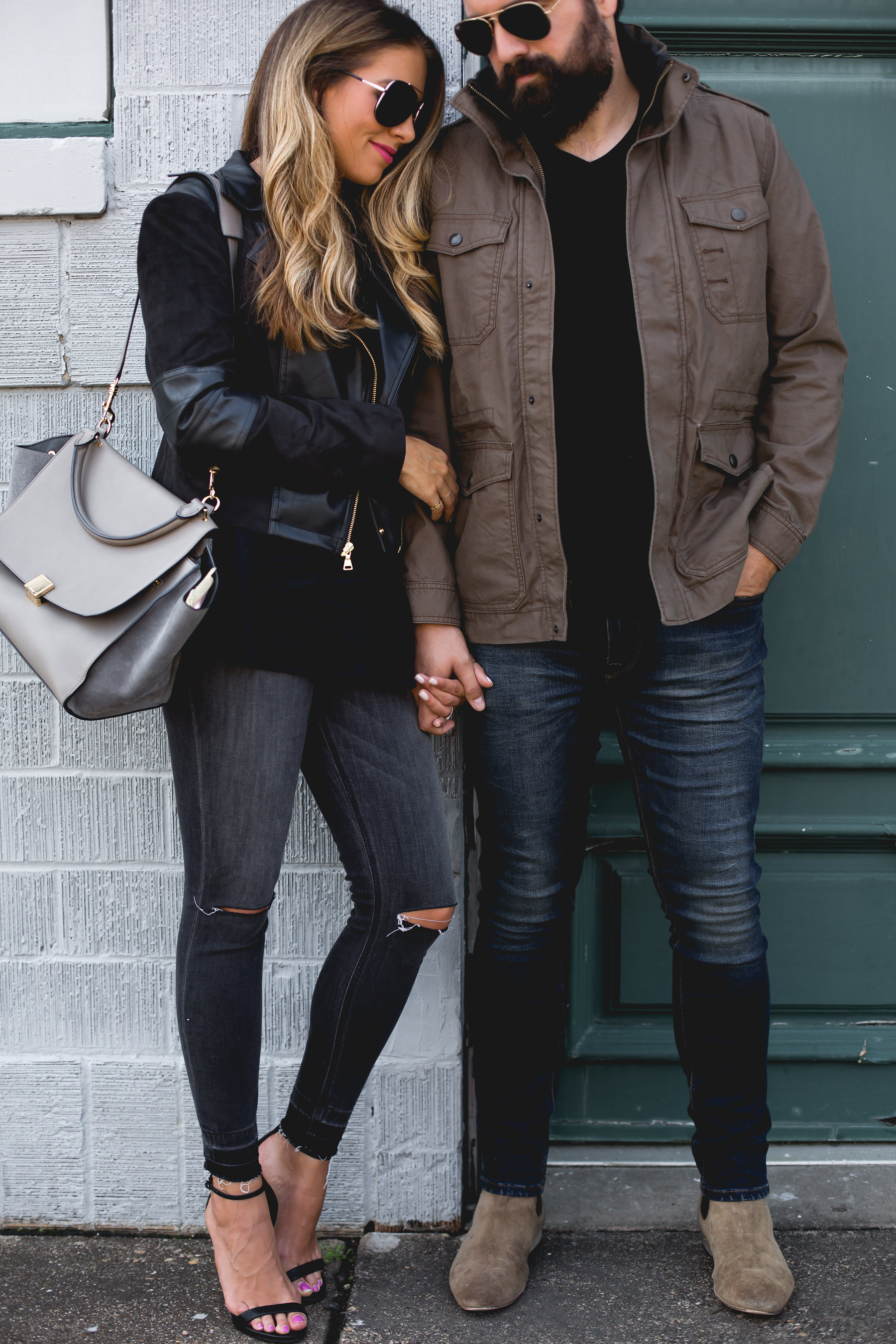 OUTFIT DETAILS:
On Austin: Express Utility Jacket (fit: true to size) | Dark Wash Skinny Jeans (fit: these run a little small) | Similar Chelsea Boots 
On Ashley: High Waisted Legging Jean (These are so flattering and I love the fit. Be sure to size down, they run a little big!) c/o | Strappy Heels | Faux Suede Moto Jacket (fit: true to size, I am in a small // This jacket looks and feels so luxe. It's a great piece for Fall) | Lipstick: color "Bosworth's Beauty"


THIS POST IS CREATED IN PARTNERSHIP WITH EXPRESS. ALL SELECTIONS AND OPINIONS ARE MY OWN.