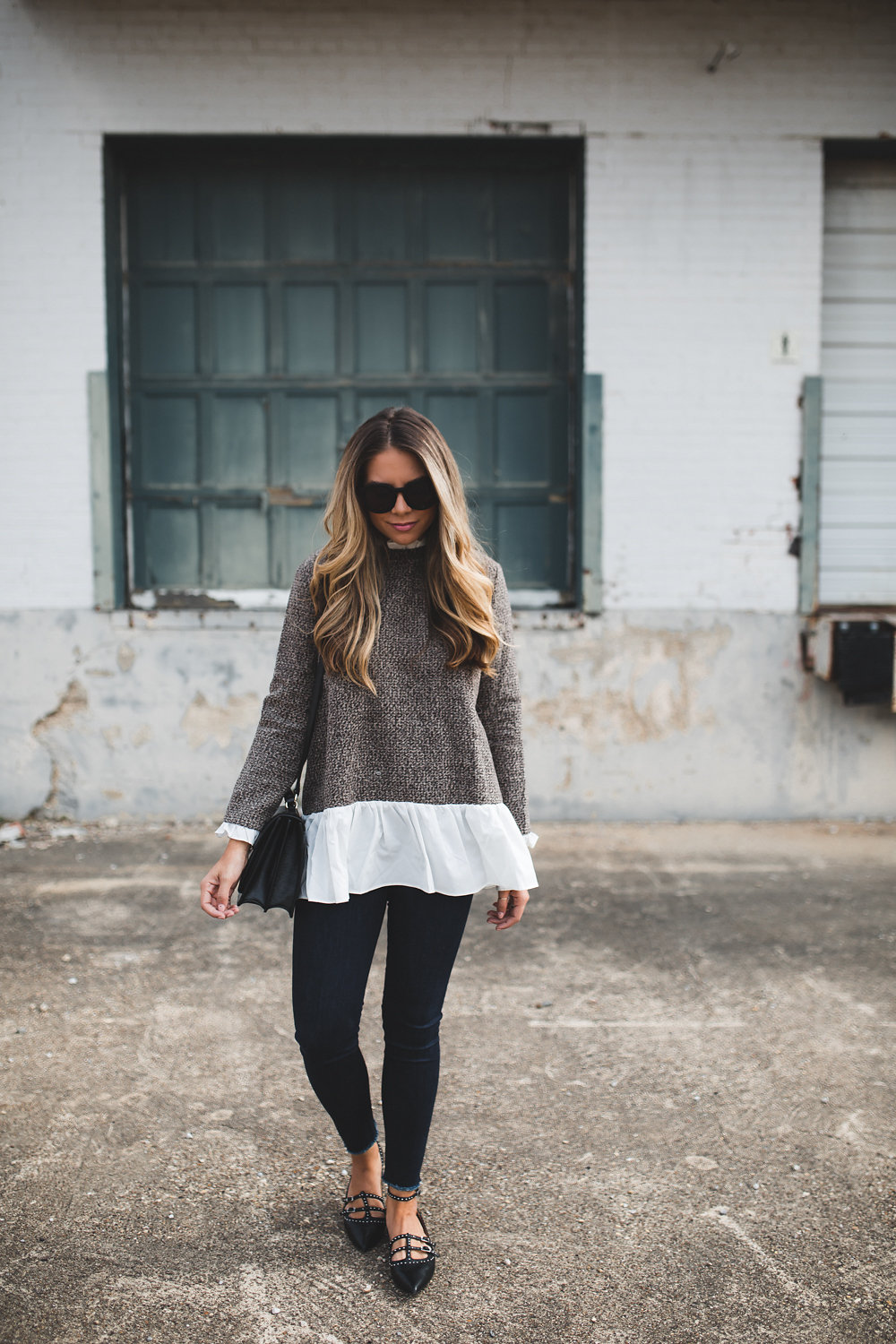 With anticipation of cooler sweater weather, I wanted to share with you a Fall inspired look (all at a budget-friendly price).  I've always loved the layered sweater look, but usually they are pretty pricey like this $100 Joie Theia Sweater.
Layered Sweater on a Budget
While many of us are looking for new sweaters, scarves and boots to get us ready for the new season, I thought I would do your wallet a favor and share this budget-friendly $25 hem pleated sweater. That's right, twenty-five bucks for this super cute layered sweater.
Quality
So your first thought is probably, "Well for $25 that layered sweater is probably junk" and honestly, I thought that too! But I was intrigued and wanted to try it out for myself.  Like many of you, I have a handful of quality pieces that I consider wardrobe staples. However, it's fun to find those budget friendly items that you know won't break the bank.
Shein
If you've followed my blog for a while, you probably notice that every now and then I feature products from Shein. Each time I do, I get several emails, comments and messages with questions regarding sizing, fit, quality etc. I totally get it, so I thought it might be helpful to explain that in further detail for you guys in this post.
I've shopped with Shein for a little over a year. My overall, my experience with them has been fairly pleasant. I know there are several reviews on the website (both good & bad) but I have a found a few tips that help when shopping this budget friendly site.
Shopping Tips
Pay close attention to the measurements. I made this mistake once and did not read the specific size measurements. My coat arrived and was way too small. It's always helpful to measure a similar top in your closet to see how the new one will fit.
Look at reviews and photos. When ordering from Shein, there are several items that have "user reviews & photos". These are what I always recommend for people to look for because this gives you another look at how the product fits.
You get what you pay for. It's true. While I love this little layered sweater (and the price), this probably isn't going to hold up after several times in the wash. In fact, I would recommend hand washing it. But it should last for the season. However, I also purchased this pink coat from them last year and it is still going strong. I wore it several times throughout the winter and fully plan to wear it again this year. It was a great find!
I hope those tips help! As always, I try to include fit and sizing details at the bottom of every post, but feel free to reach out if you have any more questions! xx Ashley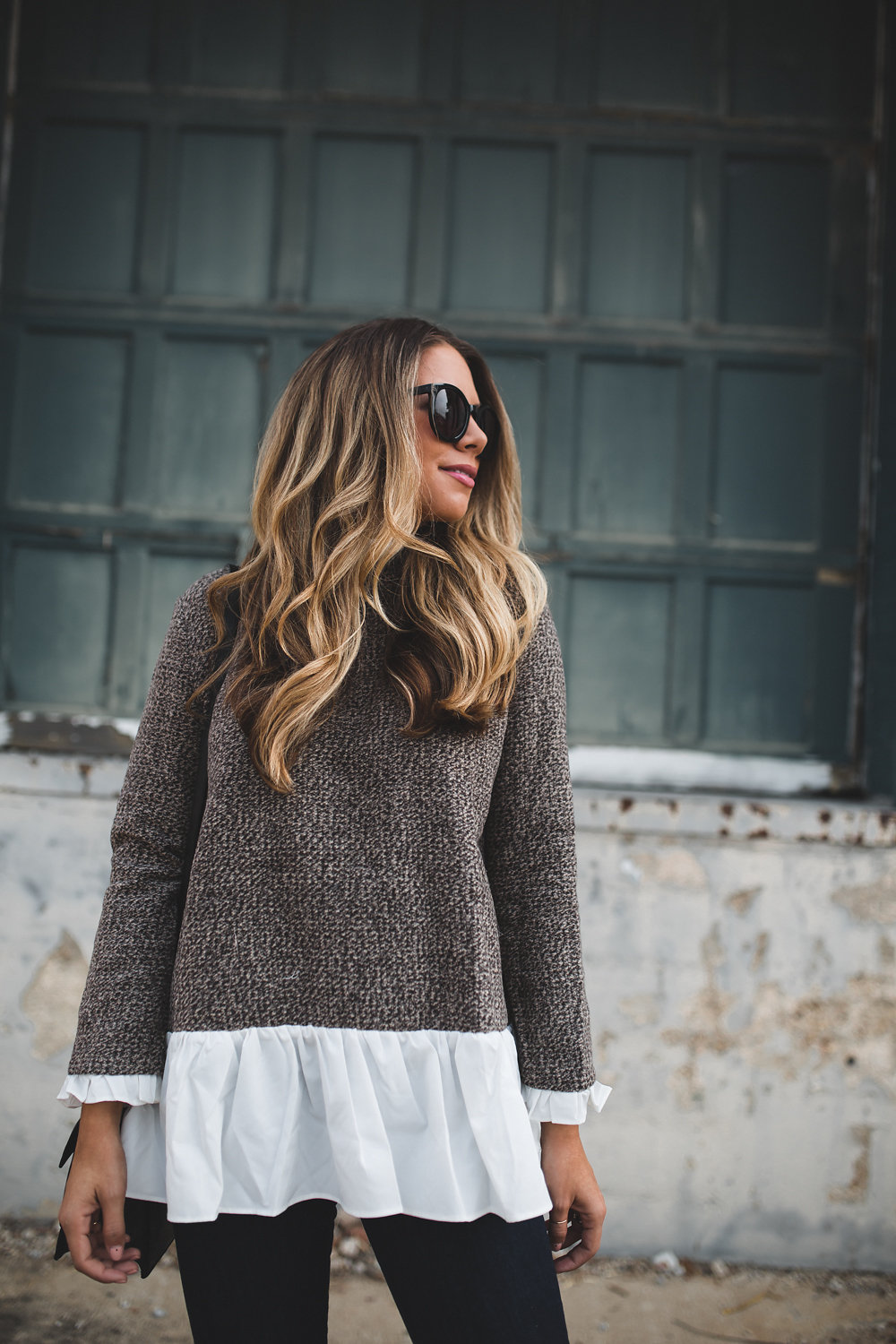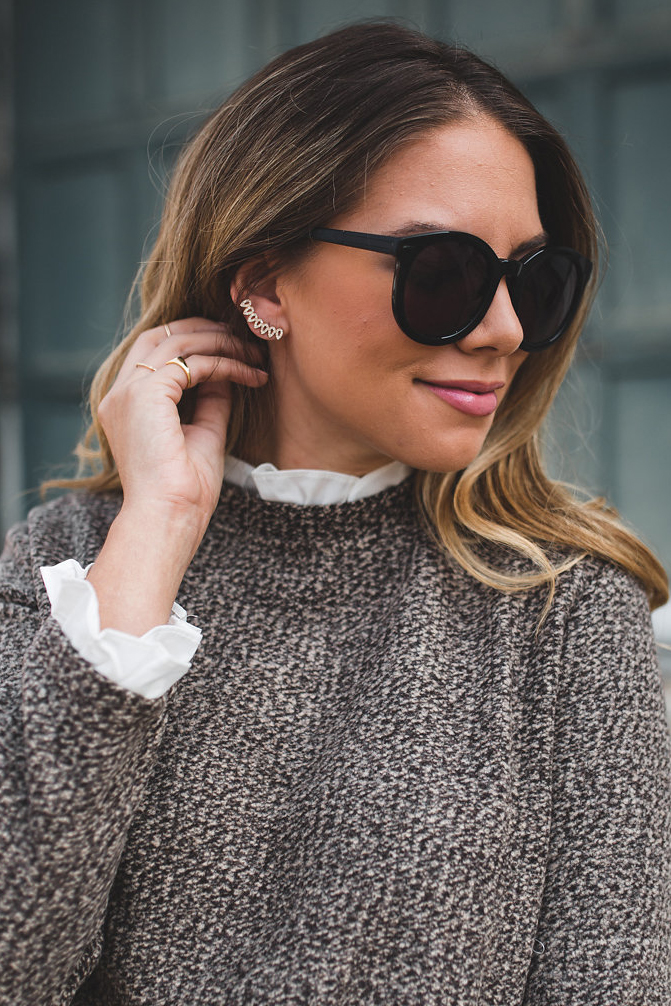 OUTFIT DETAILS: 
Brown & White Pleated Hem Sweater (fit: oversized, I bought the small, but I wish I would have got the XS) | Black Leather Crossbody | DH 1961 Denim c/o (these run true to size, I love the high rise fit!) | Gold Rings | Signet Pinky Ring | Marc Fisher Flats c/o (fit: these run true to size, I love these sandals!) | Baublebar Earrings c/o | Karen Walker Sunglasses