What a whirlwind fashion week was. And as crazy as it can be, I always look forward to it. Between the shows, meetings and presentations, this NYFW season did not disappoint. I put together a little NYFW diary of the week to share with you part of my fashion week experience.
I received quite a few questions regarding shows, outfits and just general NYC recommendations – I tried to address those here. This is kind of lengthy, so if you want to hear about the ins and outs of our week, keep on reading!
xx Ashley
DAY 1 – WEDNESDAY
Today, I woke up bright and early to set off for NYC. I met Ashley at LGA around 12:00 and we were thankful our planes were both on time and all of our bags made it to the airport!
This season we partnered with LYFT (get $50 in credits towards your next ride when you sign up with code TTD50) and were very thankful to have a trustworthy and promo car service to and from the airport and to all of our shows and meetings. When we arrived to the city, we immediately went to check in to our hotel. This season we stayed at The Row. (I honestly would not recommend this hotel. The location was great but customer service was not the best. However, they have a really great donut shop downstairs in the City Kitchen. And the donuts were delicious!)
After getting settled in our room we set off for our first show,  Pamella Roland. Think dresses that Blake Lively would wear on the red carpet…so gorgeous! It was a great way to kick off NYFW.

DAY 2- THURSDAY
The morning started with a 6:30am wakeup call from GLAMSQUAD, the on-demand beauty service for all things beauty! I know a few of you were curious about GLAMSQUAD and I highly recommend using them for your next event. You can schedule hair styling, makeup application or a nail appointment right in the comfort of your own home or in our case, hotel room. We loved GLAMSQUAD!
After getting dolled up, we set off for our first event of the day, the HM Breakfast celebrating the launch of their new home collection. This was a beautiful (and delicious) breakfast hosted by Chef Chloe. It was so exciting to see their new line of dishes, linens and home accessories.
Our first show of the day was Desigual. Many of you saw the show from instagram-stories and it was quite entertaining. Very, Alice in Wonderland. After the show we had a lunch meeting at Barbuto followed by the Noon by Noor and Tadashi Runway Show.
Later that evening we stopped by the Shopbop Fall Party. It was such a beautiful event. Some big trends we are seeing for fall are yellow (marigold), leopard print, bold stripes and plaid.
We ended the night at The Mercer Kitchen then went to bed before 10:00p. We were wiped out!

DAY 3- FRIDAY
I ended up picking this IGK Jet Lag Dry Shampoo up during my trip and absolutely fell in love with the product. It definitely works!
The morning started at the Bollare Styling Suite. It was fun to see the newest styles from BlankNYC, Beyond Yoga and This Works. I picked up the Sleeping Spray and I have to say, it's pretty amazing.
After the styling suite I ventured off to the Milly Spring /Summer Presentation. I was very excited about this presentation because I love the feminine details from Milly. This is always a favorite presentation of mine!
Later that evening, was the Nicole Miller presentation. This trench coat was a showstopper!
DAY 4- SATURDAY
We had another early morning with GLAMSQUAD followed by the Banana Republic presentation. Austin and I work with Banana Republic often and it was such a treat getting to see their latest collection.
After the presentation, we grabbed lunch with a few other blogger friends. It was nice to have a moment to relax and recharge for the next event.
The night started off with the Eugenia Kim presentation and the LikeToKnow.it Rooftop Party. It was a great night catching up with old friends and meeting new ones!
DAY 5- SUNDAY
We decided to take the day off and just enjoy the city. The sun was shining, temps were cool and we just wanted to slow things down a bit. We ate brunch at Troquet, did a little window shopping on Prince Street and then made it back to the hotel to call it an early night.
DAY 6- MONDAY
This was our final morning with GLAMSQUAD and I decided to do something a little different and add some lashes. Many of you know that I've never worn falsies or extensions, but my goodness, I loved wearing these lashes. She used these individual lashes and I may or may not have watched several YouTube videos that night trying to figure out if I could put them on myself. That is TBD but I did pick up a set of individuals and plan on trying it this weekend!
After our appointment with GLAMSQUAD, we had an early lunch meeting with the Shopbop team at While We Were Young. This restaurant is one of the most instagrammed spots in NYC and I highly recommend stopping by! They do not take reservations, so I would recommend you getting there when it opens.
Next stop, Veronica Beard. Being the "blazer girl" that I am, I geeked out at this presentation. These blazers (jackets) are the best in the business. I have my eye on the Leo Schoolboy Jacket and crossing my fingers I can find it on sale.
The night ended with the Uncommon James by Kristen Cavallari launch party. Ash and I weren't quite cool enough to hang at this party but it was fun to see Kristen. Though it was hard, we refrained from making any Laguna Beach references.
DAY 7 – TUESDAY
This was our last full day in the city. The morning started with a trip to another favorite PR firm followed by the Trachtenberg and Co. styling suite.
We ended the day with the Yestadt Millinery Presentation (I love a good hat) and a visit to the Etta Sabater showroom. This shoe collection will be out in December and early spring. I have my eyes on the yellow pointed toe flats.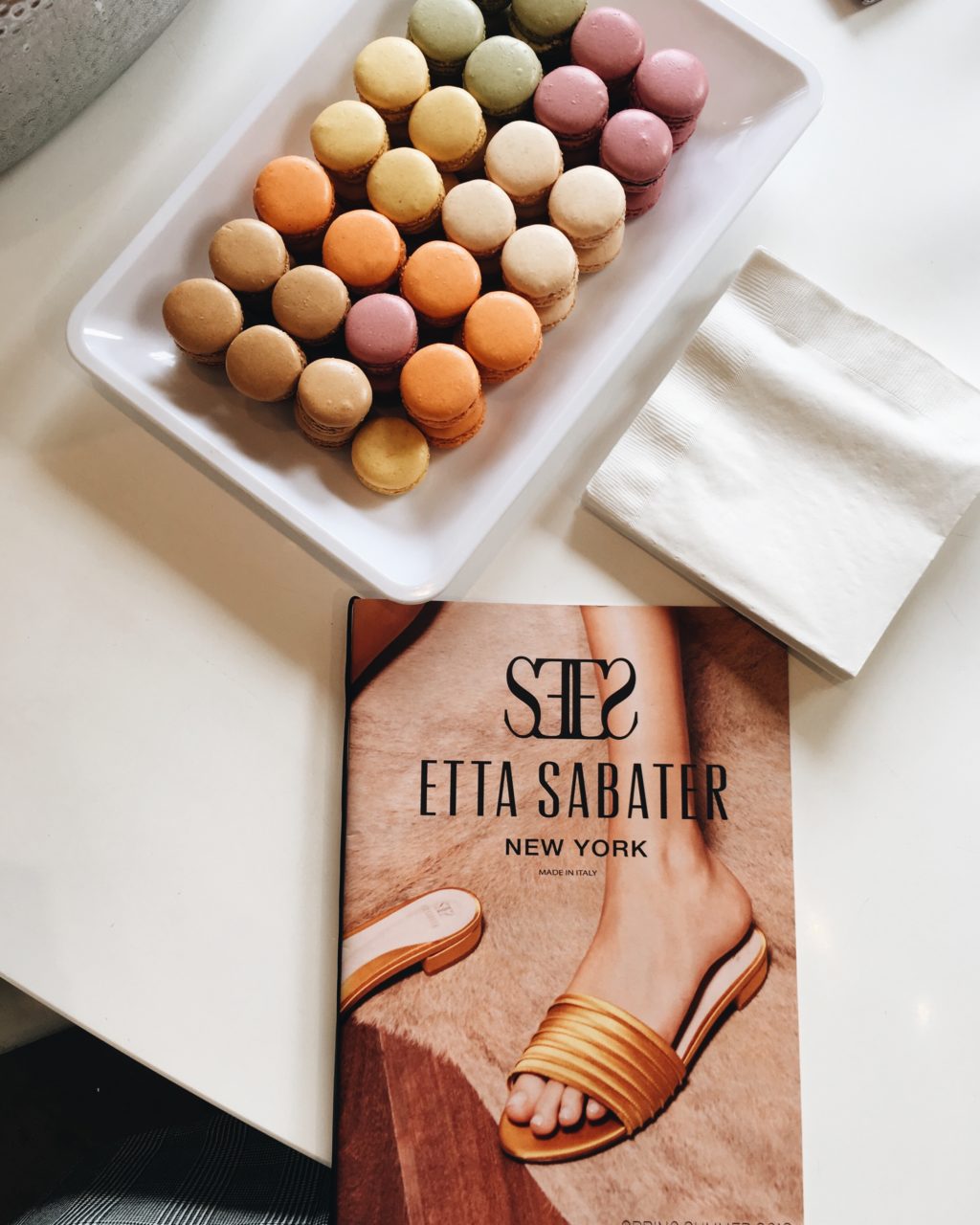 DAY 8 – WEDNESDAY
Our last day kicked off with a blow out + style from Spoke and Wheal. A trip to New York City isn't complete unless I stop by this Aveda Salon. I was introduced to this salon a few years ago and I always stop by for a blow out + style. It's the most relaxing experience. And I don't know how they do it, but my style will last a good 2-3 days. Shout out to Amanda for these voluminous curls! Oh, and if you go, make sure  you try the tea. I'm obsessed.
So many of you asked about my shoes. You guys know I love M. Gemi and this leopard pair did not disappoint. They are very comfortable, I honestly wore them almost everyday while we were in NYC. I would recommend going up a full size though, these ran a bit small.
After a little hair styling, I set off for the airport. It was a great trip, but I am so happy to be back home with Austin and Lucy. Until next time! x