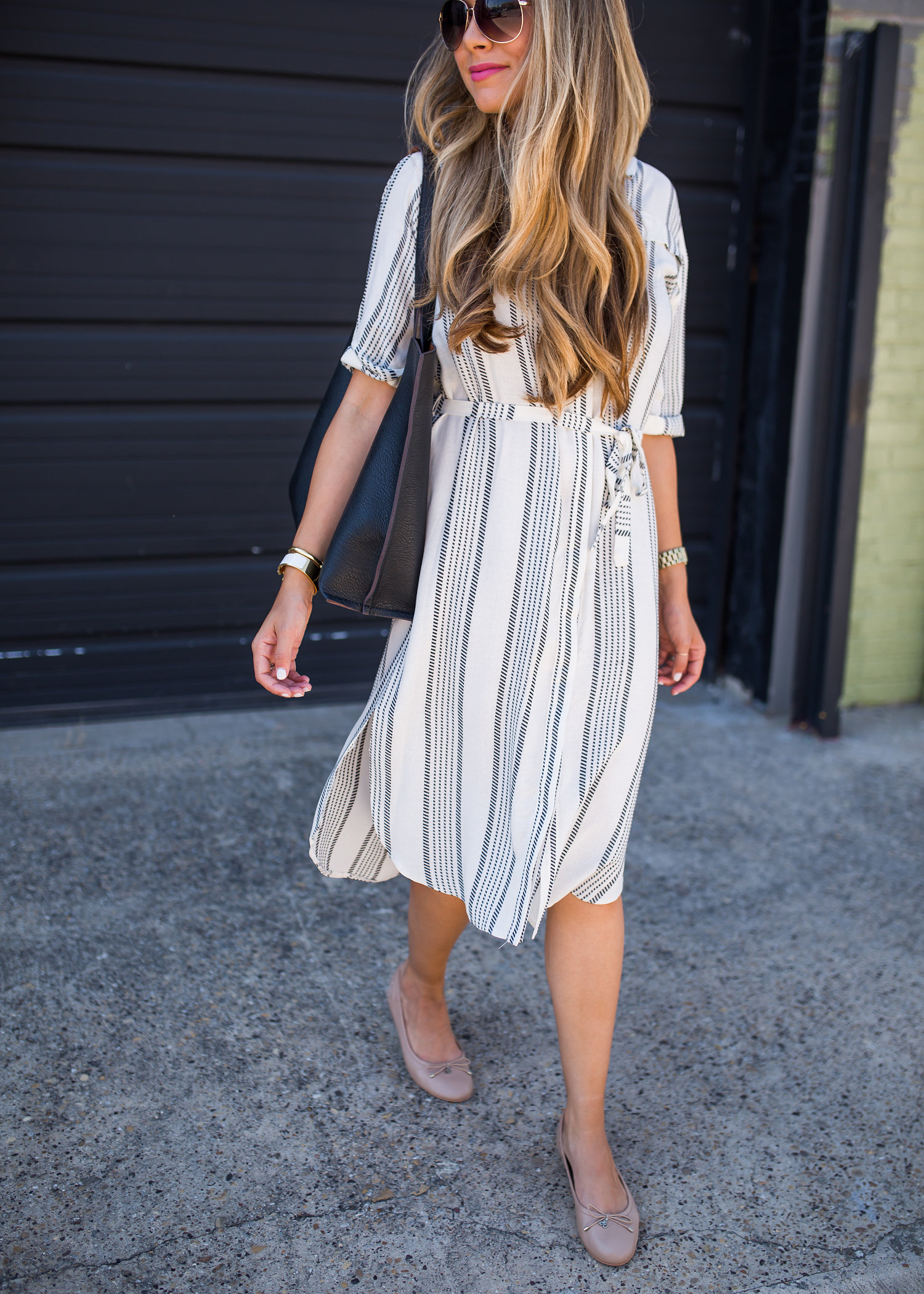 Happy Tuesday! I hope you all are having a great start to your week. I want to say thank you again for all of your feedback regarding my new Wear to Work series. I sincerely appreciate it! As promised, here is my second post for the month featuring not-so-boring work wear.
I think in general work wear has a bad reputation for being boring, frumpy or dated. I know many of us can agree that it's just more fun to dress for the weekend than it is for the office. And hey, I'm right there with you! But that doesn't mean work wear can't be chic OR versatile. Meaning, why not find things that you can wear to both.
This Striped Midi Dress is absolutely one of those for me. When Mary was shooting this look, she could not stop talking about this dress. It's really one of those pieces that you can wear to the office, out with girlfriends, or running errands. I actually wore it to church on Sunday with these lace up heels, but for the office, flats might be a better option.
While I usually like to wear a small heel or wedge, many of you mentioned you would love to see outfits for work with flats. So let me introduce you to one of the most comfortable pairs I own. I've mentioned several times that I love my Chanel Ballet Flats, but honestly the Felicia Ballet Flats are more comfy and look very similar to the classic Chanel style (and at a much better price point). I personally like the nude or blush color because it gives the appearance of longer legs, which is what I am always going for. I also have the Francis Flat, which looks just like the Chloe flats, and they are just as comfy.
Thanks so much for reading! Please keep the suggestions and comments coming…I love hearing from you guys! You can send all work wear requests to theteacherdiva@gmail.com with the subject: "WEAR TO WORK". xx Ashley
OUTFIT DETAILS:
Topshop Striped Midi Shirt Dress (fit: tts, follow sizing in parenthesis) | Sam Edelman Felicia Ballet Flats (color: Classic Nude, fit: I went up a 1/2 size and they fit perfect…I also have these Chloe look-a-likes and they are just as comfy! Go up a 1/2 size in those as well) |  Reversible Tote (the perfect fit for your laptop, files and planner // under $50) | Quay Oversized Aviators (love the size of these!) | Michael Kors Slim Runway Watch | Baublebar Pave X Ring | Lipstick: Fruit De La Passion (love this long wear liquid lipstick. It really lasts for several hours!) 


THIS POST IS IN PARTNERSHIP WITH NORDSTROM. AS ALWAYS, ALL OPINIONS AND SELECTIONS ARE MY OWN.
images by: Mary Summers Hafner