Ah, I am so excited to finally share this little spring style guide with you. I always look forward to sharing new content with you and although this season has been a little tricky with shooting projects and still "taking it easy", I really love how this turned out. Even if we did have to take little breaks between each dress. Ha.
I've had so many requests for maternity dresses, maternity workwear, non-maternity dresses etc. that I wanted to compile a small list of spring dresses I love, wear often and can check the box of both maternity and non-maternity. Are you out of breath from just from reading that? No, just me? 
Dresses have been a great way to accommodate the growing bump. So naturally, I'm looking for anything that will make for a comfy outfit to wear to a lunch meeting, dinner date or errands. These are what I am currently wearing!
Which one is your favorite? xx Ashley
NO.1  
This is one of my favorite options simply for its versatility. You can wear this to the office, weekend brunch or traveling. It's truly the ideal midi for spring and summer. Pair it with some flat sandals, sneakers or a nice pump and you're all set.
SIZING: As I mentioned above, this is not a maternity dress, but I did size up to US 8 and it fit the bump quite nicely. I tend to buy a lot from this particular brand and always recommend following the US sizing in the parenthesis. 

Topshop- Utility Midi Dress similar options here and here | Tamburo Leather Tote | KAANAS- Santorini Infinity Sandal more sizing options here
NO. 2
I recently discovered this brand after a reader recommended I try it for "non-maternity maternity" dresses. It's a little pricey, but I love the prints and styles. They are perfect for warm weather!
SIZING: I am in a small. Although it has an elastic waist and is pretty flowy, I think I would have ordered a small pregnant or not.
Spell and the Gypsy Collective – Amethyst Garden Party Dress | KAANAS- Santorini Infinity Sandal more sizing options here
NO. 3
This flowy dress is so pretty for summer. It's fully lined, so I didn't have to worry about it being sheer and it's generous sizing fit the bump, plus some! This is one of those, "throw on and go" types of dresses that you can wear on vacation or girls night out.
SIZING: This dress runs very big. I am in a 36.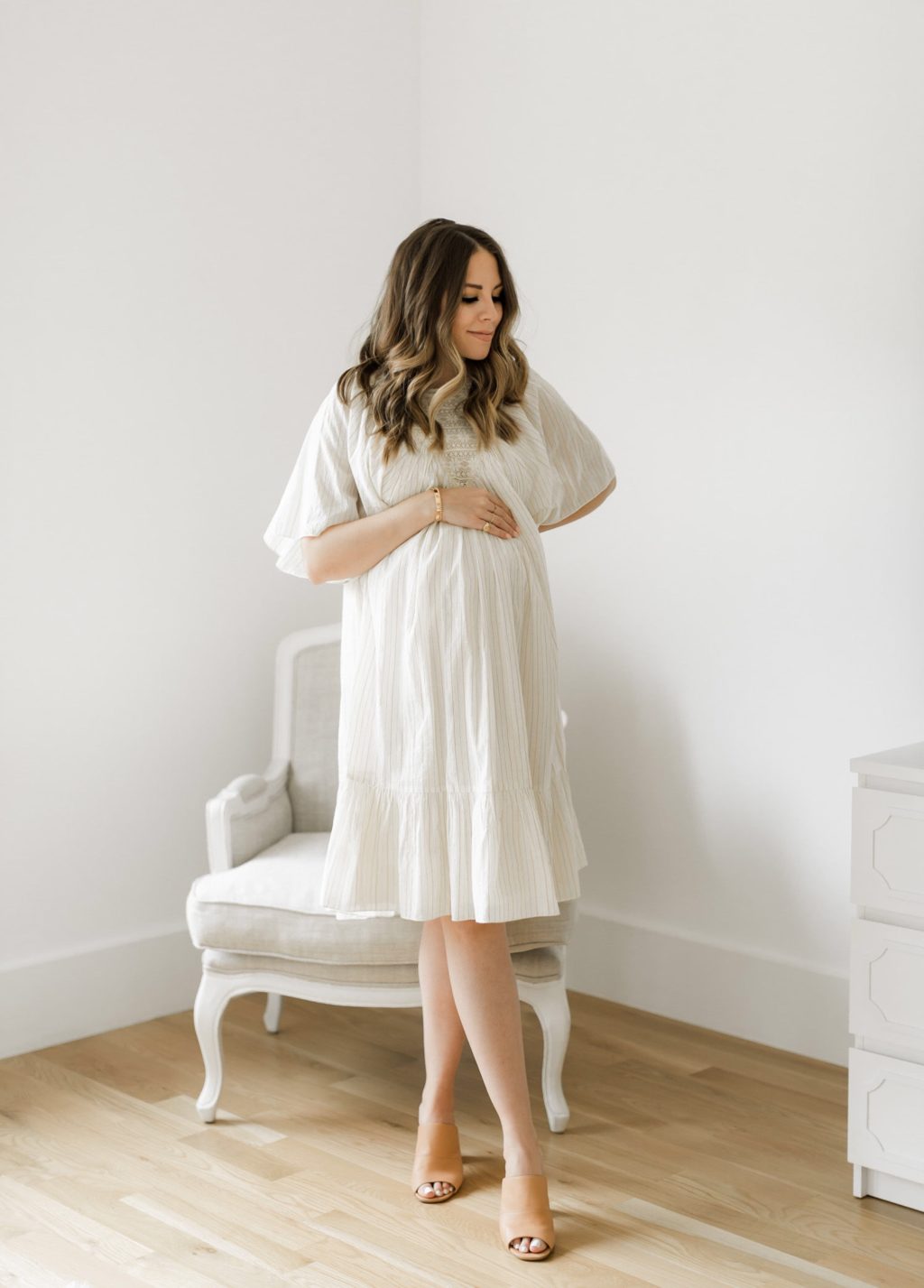 Antik Batik – Gelly Dress |  Dolce Vita Block Heel similar option here 
NO. 4
I've honestly worn this dress 3 days in a row this past week. It fits all the right spots and makes dressing this bump so much easier. The sleeves are also adjustable and can be worn in a bow (which looks adorable). Or you can pair it with your favorite denim jacket!
SIZING: This dress runs TTS. I am in a medium. 
Rebecca Taylor- Hidden Leopard Poplin Smocked Dress  | KAANAS- Santorini Infinity Sandal more sizing options here| BLANKNYC- Puff Sleeve Denim Jacket similar options here and here
NO. 5
Another spring and summer essential is this flowy midi dress. This dress is so comfortable and breezy. Pregnant or not, this is a great option for warmer weather.
SIZING: Ok, the sizing on this did not make sense. I am in an XS and wish I got the XXS. And yes, I am 7 months pregnant and saying that. However, the style is meant to be flowy and sometimes "flowy" and a 7-month bump don't always mesh well. You know what I mean? Either way, I think I will be living in this post-baby too. 
Spell and the Gypsy Collective- Amethyst Boho Dress | Tamburo Leather Tote |  Dolce Vita Block Heel similar option here