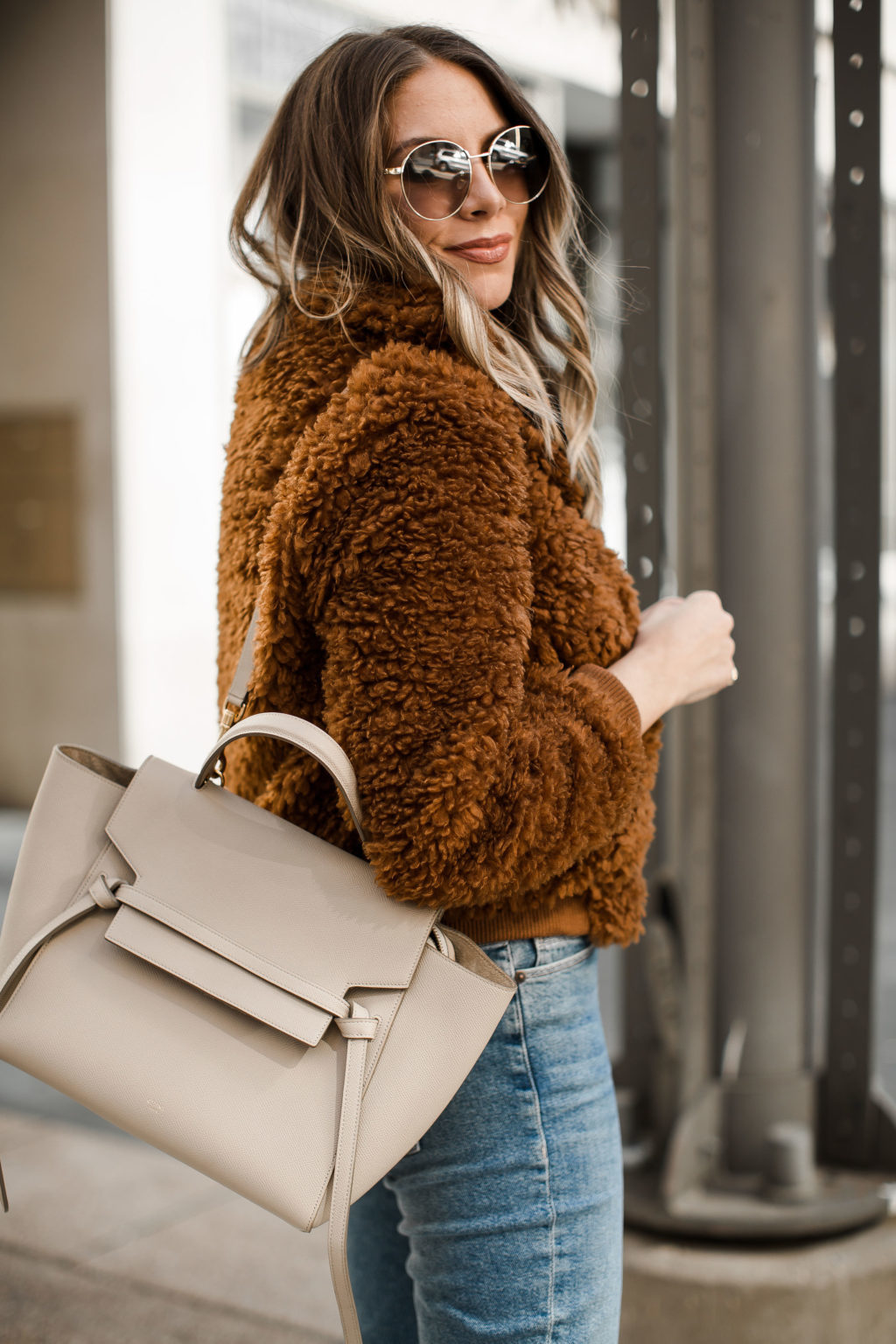 My Celine Mini Belt Bag has easily become one of my most worn handbags. I often get questions about this handbag and many of you ask about the size, durability and if I would recommend this as an "everyday bag". Below, I've put together a full list of the standard details on this bag, but also share my pros and cons. 
What do you think of the Celine Mini Belt Bag?
SIZE: 
Mini
11 X 9 X 7 IN (28 X 23 X 17 CM)
COLOR:
RETAIL:
$2500 – $2700
PROS: 
When I buy an "everyday" designer bag, I want it to be something I can wear with anything and not worry about getting it dirty or scratching the leather. I want a bag I can do life with.
Durable
Structured – I like that I can set this down and it doesn't slouch
Doesn't scratch easily
Wipes clean with a damp washcloth
Bottom hardware
Removable Shoulder Strap
Exterior Zip Pocket
2 Inside Pockets that can easily fit your iPhone or cardholder
No denim transfer – probably my #1 question with this bag. I have worn this for 1.5 years now and it honestly looks brand new. I wear dark jeans all the time and haven't had one issue with this color. 
CONS: 
I am not a fan of the flap closure. It's pretty difficult to latch one-handed (which I've come to realize I always need something out of it when my hands are full) and I just feel like a snap could have been a better option. 
DO I RECOMMEND?
100% yes. This bag is my favorite bag in my closet. I have been contemplating buying the black for some time now, and perhaps one day I'll get my hands on one.
I have said it before, but I almost always buy my designer bags gently used. And in many cases, it comes with original packaging, receipts or tags and original dustbag. This allows me to buy a trendy or classic designer option at a fraction of the retail price. If you are curious about the places I shop for handbags, be sure to check out this post and this post.
If you are looking for a Celine Mini Belt Bag, we rounded up a few places that currently have them available. But as you know, these go quick. Let me know if you happen to snag one!
SHOP THE CELINE MINI BELT BAG

Celine Mini Belt Bag Taupe // Grained Calfskin Mini Belt Bag Black // Grained Calfskin Mini Belt Bag Green  // Natural Calfskin Mini Belt Bag Burgundy // Smooth Calfskin Mini Belt Bag Terracotta // Palmelato Mini Belt Bag Camel // Drummed Calfskin Mini Belt Bag Black  // Smooth Calfskin Mini Belt Bag Tan // Belt Bag Grainy Leather Mini Neutral // Belt Bag Grainy Leather Mini Black  // Celine Belt Bag Calfskin Mini Blue // Belt Bag Mini – Red Grained Calfskin
So what are your thoughts on designer handbag reviews? Our Instagram community has been asking for more so we wanted to hear from you. Let us know — we are happy to do more!  xx Ashley
Outfit Details
Look One | Look Two | Look Three | Look Four