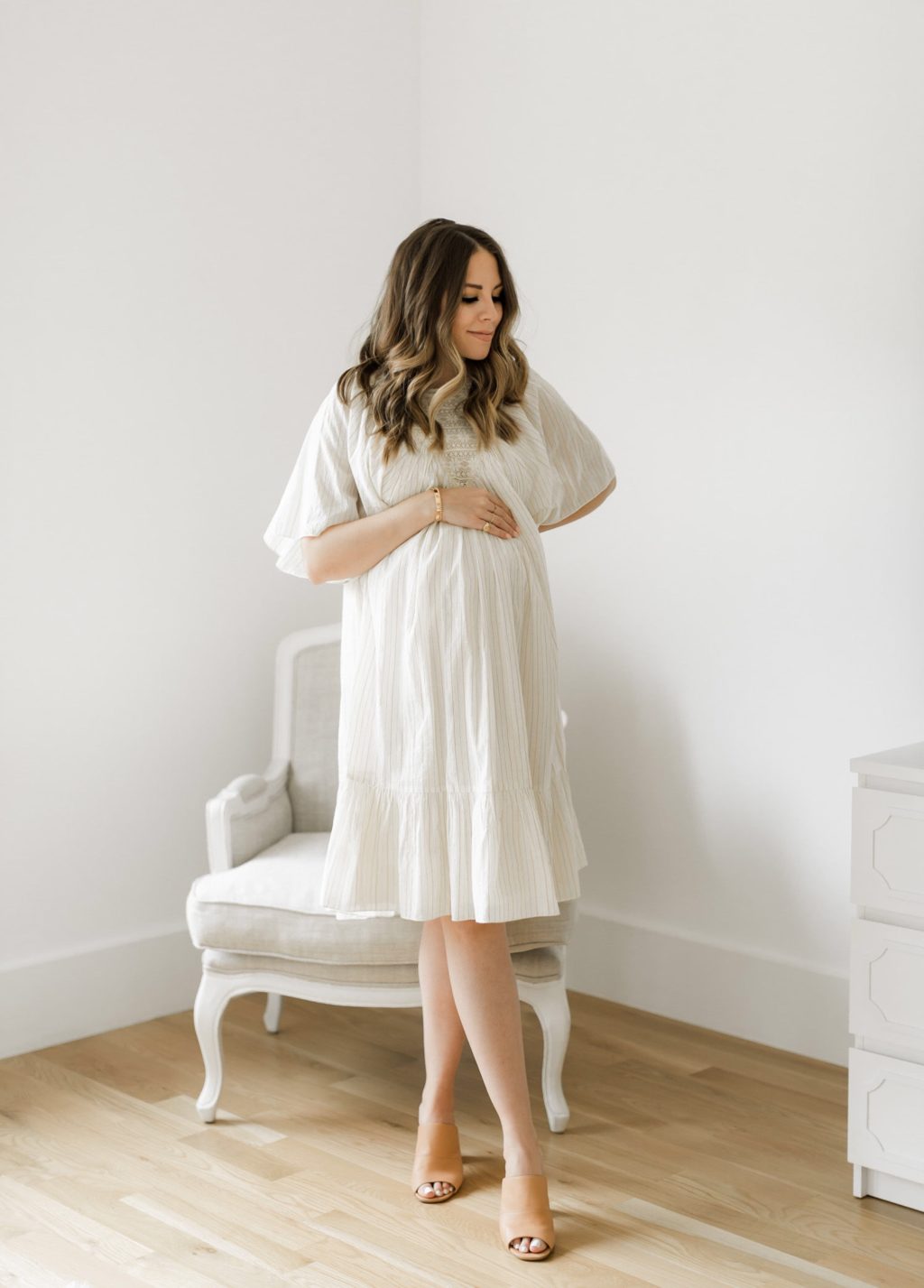 If you are expecting, congratulations! Between the excitement (and anxiety if we're being honest), you probably have thought about your baby shower. "When is the best time to have my shower?", "What do I register for?",  "What should I wear?" are just a few of the questions that have already popped into your head.
I honestly went back and forth on if I even wanted one, but after Katey, my Mom and my Grandma strongly encouraged me to agree and let my friends throw me one, it started to make me really excited.
I knew I wanted to wear a white dress for my shower and keep things very neutral. Below, I've sourced the interwebs for white and neutral dresses that will fit the bump and be perfect for your baby shower should you want to go this direction too.
Here's to a happy and healthy pregnancy! xx Ashley
BABY SHOWER DRESSES 

1. Daisy Embroidered Dress (This is non-maternity, but this style fits the bump so well!) | 2. Ella Moss Maternity V-Neck Dress (more sizes here) | 3. Sea Seraphina Midi Dress (This one is a bit of a splurge, but it's so beautiful on. I ordered this for my shower and found it to be a little small. I'm exchanging it for a bigger size and crossing my fingers it works! You will also want to wear a slip with this.) | 4. Rachel Pally Wrap Dress | 5. Antik Batik Gelly Dress (Also worn in my Spring Style Guide! This runs very big, I am in a 36) | 6. WAYF Blouson Midi Dress (UNDER $100 – I have several friends who wore this for their shower and it looked beautiful! It can be a bit low, so I would not recommend it if you have a larger chest.)
OTHER STORES FOR A BABY SHOWER DRESS
This site is one of my favorites. The clothing is designed to fit with the bump and without allowing you to get more wear out of your favorite pieces! 
They make the most beautiful bohemian dresses. The sizing runs generous, so I would get my normal size or even size down with the bump.
A few brands to note for growing bumps: LoveShackFancy – They make a lot of pieces with stretchy waistbands, Tiare Hawaii – These are more print focused, but perfect for those in their 2nd or early 3rd trimester, Melissa Odabash – Known for their resort wear, they do have a few dresses that would fit a bump perfectly!  
Not crazy about some of the stuff but they do have great basics! I usually check out Rachel Pally, Ella Moss and their denim collection. 
I did a huge Rent The Runway review and I'm even sharing a promo code for your first order. Be sure to check out that blog post for maternity tips, how to sign up and what it's all about.